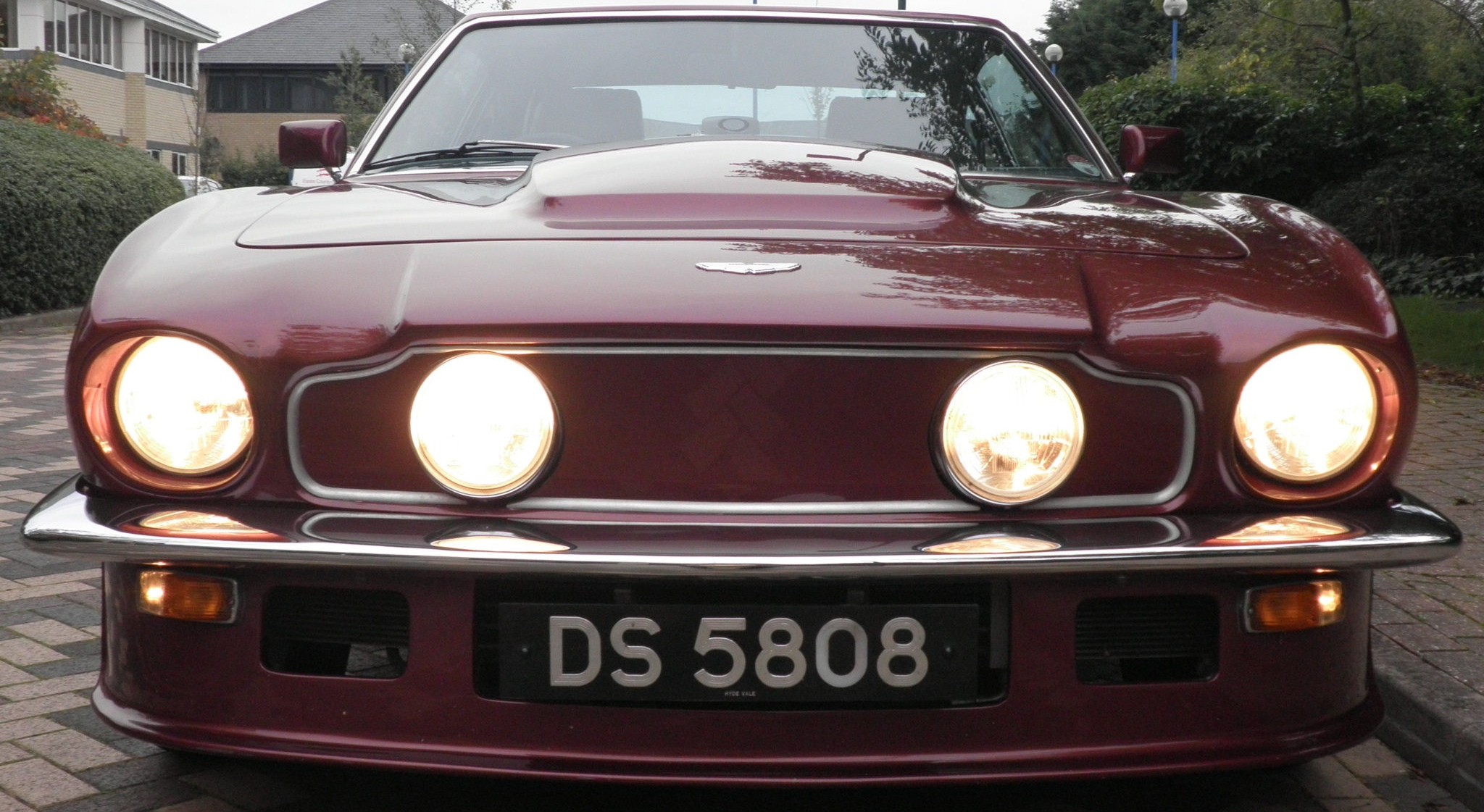 Mike's talks about why he loves the 1970s Aston Martin V8 'Vantage Spec'.
Have you ever experienced something in life and not wanted it to end? I have.
After only ten minutes behind the wheel it dawned on me that my life would revert back to being Aston Martin V8 Vantage spec-less at the end of this journey. No longer would I feel suave, sophisticated yet rugged. No more would I be Mr Bond, albeit a British Indian version of him. No more would I have the ability to pass through the Barbican underpass with what is still the best V8 exhaust note I ever created with my right foot. She was not mine, I would only get to drive her when it suited her, when she needed me to.
The Aston Martin V8, as featured in the Living Daylights, didn't sport skis from Newport Pagnell – Albert R. Broccoli was responsible for those. But what they did produce in my opinion was one of the most manly and handsome cars ever. As a massive fan of a DB5, I still think my heart lies with a 1975 Aston V8 Vantage. This particular one in question was "Vantage spec". Born a standard V8, she wore the correct aggressive bodykit, was propelled forward by a Vantage engine, but lacked the manual gearbox. Some could protest that she was not a real Vantage…but for me the argument stops just there. They are correct, their statement is accurate. But so what? I have said before that a car is all about 'fit'. And for a chap like me who wants to feel like a rogue at the wheel and rest his right arm on the driver sill with the window down…who needs a gear lever to get in the way?
What impressed me most about the Aston was her compliance over bumps and rough surfaces, she was usable, maneuverable, lovable and had presence. I liked the stiff brake pedal that required an iron right foot to pull her to a standstill. I fell in love with the second position on the throttle, beyond halfway the induction and exhaust noise harmonised to turn heads at bus stops – and what folk saw passing by matched what they expected from the input of their ears, a powerful, aggressive looking but elegant beast. I used the word beast because I felt at one with the car, I became a powerful, aggressive looking but a elegant gent in my head, so whether the lady at the bus stop was looking at me or the Aston, who cares, she was looking at 'us'.
She was a busy car, very popular with clients, and as I expressed earlier I only got my turn behind the wheel when she needed me, but as with all love sick puppies I was at her beck and call. She would suffer once in a while with her regulator giving up, either under charging the battery or over charging and causing an almighty sulphur smell from the battery. In both cases, a new regulator and battery later she was ready – ready for the one who knew her best to spend time with her and make sure she was well for others to enjoy.
I recall taking her home one weekend to test her and as I pulled up on to my driveway where my Bmw 645ci would normally live, my neighbour came out. Being 19, and standing next to his modified Ford Focus ST 'slammed down on a set or rims' he shouted, "Wow, that old thing belongs in a museum mate, its even got metal bumpers!" I smiled. What did he know? I am indeed a Playstation Baby, but he, however, was a Playstation three Baby.
For those who want the best, you have to pay for it. And in my opinion the Aston Martin V8 is up there, but tyres and replacements parts can be ridiculously expensive cost wise, and even hard to source. Not to mention the sub 15 mpg.
But if you can afford it, they make great daily drivers and/or a satisfying classic to cherish, just learn to look at the fuel and running costs as 'energy' to make the Aston tick…tick for your pleasure…and not as physical pound notes leaving your wallet.
So, Trade Classic readers, keep an eye out for my experiences of another Aston Martin, one that was not driven by Mr Bond, but another secret agent. I will leave you with that thought…
Mike
PS if you like my articles then you can have them delivered straight to your lovely inbox – simply subscribe to my blog.
---

MIKE ATWALL
This article was written and published by Mike Atwall. Mike works for Trade Classics as an in-house journalist and copywriter and has many years' experience in the classic car sector – for over 8 years he was the General Manager of the Classic Car Club in London and responsible for a fleet of over 100 cars worth multi-million pounds. So there's not much Mike doesn't know about makes, models, maintenance and idiosyncrasies of these old cars. Mike's a true petrol head with a deep passion for the classics and he loves to talk cars all day, so why not write a reply on this article below.
Google+
Tags:
1975 aston martin
,
aston martin v8 vantage spec. aston martin
,
classic car
Categories:
1970s classic cars
,
Aston Martin
,
Classic Car Blog
,
Mike Atwal