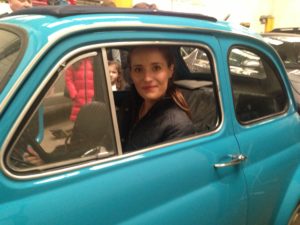 How much would you expect to pay to hire a classic car in Bedfordshire? A few hundred quid perhaps, plus extra charges for things like insurance and breakdown?
Well, if you love classic cars, particularly Italian classic cars, then you might be interested to know that you can hire a beautiful classic Italian car in Bedfordshire for as little as £30 a day.
Or if you wanted to extend the experience for a whole weekend, there are excellent weekend rates available.
We can recommend a classic car collection available for hire in Bedfordshire, that has something for everyone:
The 1969 Fiat 500L is a gorgeous shade of blue, and combines bijou and retro in a classic way.
They also have a Positano Yellow 1969 Fiat 500L. Talk about curb appeal, hiring this classic car will make a very loud statement.
Their white 1967 Alfa Romeo Duetto Spider is simply stunning, and very popular for anyone who wants to relive the swinging 60″s.
Also, the 1971 Lancia Fulvia is fulla fun! In red, this is a lovely little classic car to hire for a very special occasion like a wedding.
If you know that good things come in small sizes, then you might want to hire the 1978 blue Fiat 127. This little classic puts the super in super-mini.
Last but certainly not least, they also have a red 1974 Alfa Romeo 1750 GTV in stunning unmarked Alfa red.
Any of these fabulous classic cars are available for hire.
If your looking for a different idea for a gift or a surprise, then hiring one of these classic Italian cars could be just the ticket.
It"s a hassle-free treat, as they take care of insurance and breakdown within the price. There are no extra charges.
They also don"t restrict your mileage so you could go just about anywhere. How cruel to offer the experience of driving a classic car and then telling you where you are allowed to drive it! That"s like showing you the menu in top restaurant and telling you that you can"t order your favourite dishes! They just couldn"t do that to you.
Especially not in the Bedfordshire area, there are just too many miles to enjoy! It"s a great place for some lovely country driving. There are some beautiful places to visit, all within easy reach in your hired classic car.
Can you see yourself arriving in style for a day at Houghton House perhaps? Or you could hire a classic car for a drive out to a beautiful local English village.
In the area, there is Turvey with its collection of listed buildings, or Milbrook which is famous for the stunning Millbrook Valley.
Wherever you choose, driving out in one of the Italian classic hire cars would make it all the more special.
If you are planning a trip, why not extend that holiday feeling – they even offer a classic car airport service to and from Luton airport.
We"ve been out to see their classic cars and they really have a fine collection, and what"s more, they are reliable too.
To book a car then call Carms on (update 06/09/13 – the cars are currently being overhauled, once complete then I"ll publish the contact details again) – and please get in touch if you get the chance to hire a classic car in Bedfordshire, as we would love to hear how it went.
---

EMMA JONES
This article was written and published by Emma Jones.  Emma works for Trade Classics as an in-house journalist and copywriter and has many years" experience in the classic car sector.  Why not write a reply on this article below – she"d love to hear your thoughts on her thoughts!Google
---
Tags:
classic car hire
,
rent
Categories:
Classic Car Blog
,
Classic Car Chat
,
Classic Car Hire