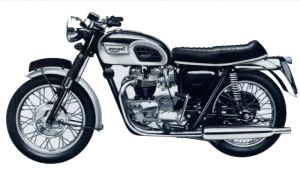 A few weeks ago, I wrote a blog about the new Channel 5 programme called Classic Car Rescue.
I was delighted to tell you about a fresh new motoring show coming to the small screen, especially given that Classic Car Rescue was bringing us some new classic car material to our tele-box.
But at the same time, it got me thinking about motorbikes and how little they seem to feature on key TV channels.
Of course, there are some bike programmes shown on TV, and there always have been.  The most prominent of these tend to be motor-racing programmes.  Otherwise, non-sport motorbike TV shows tend to be shown only on some of the satellite and cable channels.
In days gone by, you might have seen the TV show "Pulling Power" on your screens.  Pulling Power started in 1996 as a regional motoring show in the Central region, and then became an ITV trial show in 2005.  It was hosted by Edd China, who you might also have seen in Wheeler Dealers.
Despite not being made since 2008, you can still find episodes of this bike show on ITV4.  Although at the time of writing this article, they are not currently being shown.  Wheeler Dealers, however, is still shown regularly on the Discovery Channels.
Bikes Aloud is another example of a previously shown biking programme, and was a Men & Motors TV show.  The first series of Bikes Aloud was shown in 2004.  I am sure that the popularity for this show can be undoubtedly linked to the stunning Louise Brady!
But what about a current and relevant biking TV show?
I am sure that biking fans feel that TV is lacking a mainstream bike programme, shown at a popular hour and on one of the popular TV channels.  Not necessarily a Top Gear for bikes, but something sporty and with different features on a bike theme.
What do you think?  Would you like to see more motorbikes on TV?  What about on prime time TV?
If so, then you could join a current campaign.
Swinton, the insurance company, have launched the "More Bikes on the Beeb" petition by Swinton Bikes. This gives you a chance to join a campaign to get more bikes on the Tv! As part of the petition, you even get to give your views on what the name of the programme should be, who should present it and what the theme tune should be.
If you want to give your views and join the petition, you can visit www.swintonbikes.co.uk/tvsurvey
So who knows?  Maybe in the near-future I"ll be able to write a new blog featuring a new and fresh biking programme about to start on BBC1 or ITV.  Maybe.. ?
---

EMMA JONES
This article was written and published by Emma Jones.  Emma works for Trade Classics as an in-house journalist and copywriter and has many years" experience in the classic car sector.  Why not write a reply on this article below – she"d love to hear your thoughts on her thoughts!Google
---
Tags:
classic motorbikes
,
motorbike TV shows
,
TV program
Categories:
Classic Car Blog
,
Government Policy