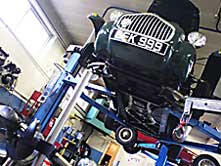 A few months ago, I wrote a blog regarding the EU"s proposals to introduce an obligatory "road worthiness" test for classic cars.
In summary, the EU felt that historical cars should be required to pass a test in order to ensure that the parts of the car remained true to the original build.
Therefore, classic cars with modified engines (or other key parts) would have failed. As a result, many UK classic car owners would have been refused car insurance.
Owners would have faced the undesirable choice of not being able to drive their classic cars on the roads, or needing to spend a significant amount of money to re-modify the car so that it used authentic parts only.  In fact some classic car owners would not even have had the luxury of this choice. For certain classic cars (for example Triumph) it is extremely expensive to source parts, given that they are no longer made.
As a result, many classic car enthusiasts made their objections quite clear to Stephen Hammond, the Minister for Roads.
Last week, Mr Hammond went to Brussels to represent UK classic car enthusiasts regarding the EU plans.  He was able to convince the EU to down-scale the regulations.  It was agreed that UK testers will have a greater amount of discretion in assessing the road worthiness of post-1960 classic cars (those built prior to 1960 are MOT exempt).  Testers will be responsible for assessing the safety of the vehicles, regardless of the parts used in modifying the car.
This judgement will determine eligibility for the vehicle to gain insurance.
The original proposals were set to cost the UK around £1 billion over a five-year period, the scaled-down plans will reduce this cost down to around £18 million.
There was also good news for owners of caravans and trailers.  The EU had proposed that caravans and trailers should be MOT tested.  As a result, one million owners of trailers and caravans would have been affected, including both private and professional owners.
As part of his visit to Brussels, Stephen Hammond was successful in persuading the EU to also cancel these plans.
Phew and well done Mr Hammond from all of us here at Trade Classics!
Can you imagine how many classic car owners and caravan owners would have been refused insurance!  The Roads Minister commented that "This is a victory for common sense. The original proposals would have hit British businesses and motorists with massive additional costs for no good reason".
We of course agree with him, thank goodness for a bit of sense at last from the EU.
Please get in touch if you share our views, or perhaps you would have welcomed the EU"s road worthiness proposals?
---

EMMA JONES
This article was written and published by Emma Jones.  Emma works for Trade Classics as an in-house journalist and copywriter and has many years" experience in the classic car sector.  Why not write a reply on this article below – she"d love to hear your thoughts on her thoughts!Google
---
Tags:
classic car mot
,
classic cars
Categories:
Classic Car Blog
,
Classic Car Chat
,
Government Policy