Eat breakfast like a King, lunch like a Prince, and dinner like a pauper.
I love that expression.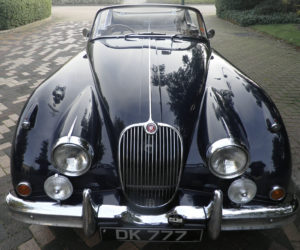 I once enjoyed breakfast as a King. There I stood, stuffing a petrol station's finest sausage roll into my mouth, impressed by its perfectly dry texture from its four stage re-heating. I took note that it was excellently cold due to missing the fifth stage of the re-heating regime. As I chewed I focused very hard to spot steam rising from my cup of tea. That was cold too. It was all beautifully disgusting. With crumbs and flakes down my front, a stomach ache on the way and a horrible after taste in my mouth, I felt like a King.
You can assume one of two things now. Firstly that I do not understand the definition of a King, or secondly I am simply ignorant to what good food is.
But in my defence, I know full well that a King comes after the Queen in the deck of cards hierarchy, presenting itself in either Hearts, Diamonds, Spades or Clubs. And that a JD Wetherspoons fry up is an upmarket breakfast.
But truth be told, this ignorant and sheltered chap was driving a very special car pre and post breakfast.
Yes. A Jaguar XK150. 'S' spec in fact. Presented in a deep dark blue, with tan interior, this drop-head XK was expected to arrive at Goodwood that particular morning, and I was the lucky man who had to escort her there. Driving an XK150 to Goodwood…now please correct me if I am wrong, but I think I had every right to feel like a King.
The gorgeous XK made me forget that I was wearing a pair of scruffy jeans, a washed out black polo top and worn out leather jacket. She even made a stale sausage roll and dish water style tea taste like they belonged at a tea party, a tea party with the words 'The Ritz' embezzled within the invitation's text.
This 1959 born XK was special. She wore uprated running gear in the form of an after-market pedal box, Getrag five speed gearbox, quick rack steering, trick suspension, stainless steel exhaust and three carburetors, making her 'S' spec. She was superbly fast and responsive, emitting a sound track to match. With the roof down, the exhaust note throughout the length of second gear was faultless, making tunnels so much fun. Blipping the throttle on the down-change was highly addictive. It made everybody turn around.
Driving the XK150 was easy, her clutch was heavy and strong as I like a clutch to be, the gearchange sported a short, precise throw and steering inputs turned to action within seconds. She was comfortable, handled well and was civilised when you were not stroking the loud pedal too much. She was easy to negotiate traffic with because every motorist, pedestrian, even cyclists, would give way just to see her, to hear her, snap a picture and to wave to me…like one would wave to their King. On the open road she felt planted, never out of her depth power wise and caused every passing driver to slow right down to have a look, producing Royal waves from each and every one.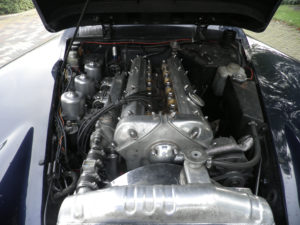 The XK engine characteristic reminded me of BMW's M straight six powerplant, instant throttle response no matter where the revs were. The gearbox felt like that from a Z3M, and being a Getrag unit it most likely was. I loved the looks. She was rounded, held her chromework with pride and looked gorgeous roof up or down. The interior felt welcoming, it was more of a cockpit, dials and controls at the ready, all wrapped in wood and leather because there is no other way to do it right. I cruised along at 50mph on the A3 dual carriageway, roof down, arm draped across the driver's door sill, carrying the same demeanour I had in town, using all of the XK's beauty and presence to make myself feel on top of the world, in charge, top dog…I was King.
I will never forget arriving at Goodwood. I entered the place like I owned it. As if I was Lord March. Nothing to do with me as a person, my organisational skills, pre-booking or anything, I was simply in the correct car for the moment, and what a perfect life long memory that moment remains.
So does an XK150 make for an easy classic car to maintain?
From my experience yes, due to similar mechanicals to the MKII and E type, parts are widely available and regular servicing should keep one healthy. Most XK150's by now will have been restored and be sound of rust, electrical gremlins and mechanical woes, so find a good one and I think your investment will not only be safe, but rewarding, every time you look at it, hear it, feel it and present yourself alongside it in front of others.
The 1950's XK series is the epitome of a classic car in my opinion because it is adored wherever it goes, exudes a coolness that passes directly onto the driver, and looks mighty expensive. Lucky that because they seem to be rising quickly in value.
A friend who bought an XK150 recently sent me this link.
https://www.bonhams.com/auctions/22729/lot/26/
He was pleased. I was pleased for him. But I was not surprised.
This is the high end of classic car motoring, fit for a King. So if you buy one, store her nicely, keep on top of maintenance and make any driving occasion Royal by default.
So Trade Classic readers, I arrived at Goodwood as a King. But having a return car to pick up…this King became a Caveman. Stay tuned.
Oh yeah, and if you like my articles then you can have them delivered straight to your lovely inbox – simply subscribe to my blog.
---

MIKE ATWAL
This article was written and published by Mike Atwal. Mike works for Trade Classics as an in-house journalist and copywriter and has many years' experience in the classic car sector – for over 8 years he was the General Manager of the Classic Car Club in London and responsible for a fleet of over 100 cars worth multi-million pounds. So there's not much Mike doesn't know about makes, models, maintenance and idiosyncrasies of these old cars. Mike's a true petrol head with a deep passion for the classics and he loves to talk cars all day, so why not write a reply on this article below.
Google+
Tags:
goodwood
,
jaguar xk150
,
maintaining an xk150
,
xk150
,
xk150 classic car
Categories:
1950s Classic Car
,
Jaguar
,
Mike Atwal