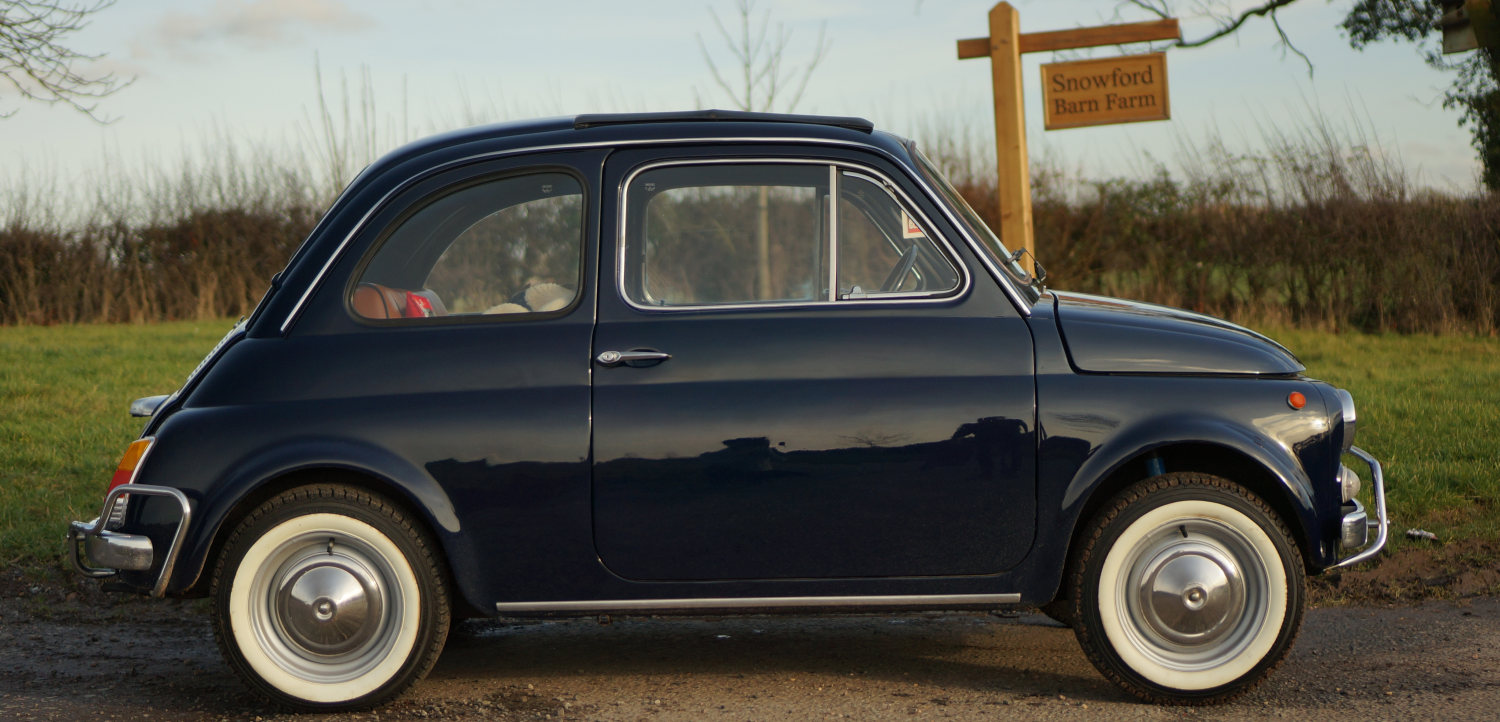 Growing up at the car club, it was not uncommon for a car to appear in front me that I had never seen in the flesh before. This little red original Fiat 500 was no exception. Before then I only knew of Luigi from Disney Pixar's Cars film.
It was so small! How could anybody fit in there? Upon opening the door, taking note of the well styled door handles I began to try and stuff myself inside…but I actually ended up stepping inside elegantly. The Fiat 500 may have appeared teeny weeny on the outside but on the inside she was roomy, there was more space in here than a 1987 300SL Mercedes.
The single dial incorporating the speedo, fuel gauge and the indicator signal had been designed to perfection and I had everything a driver required for a motoring experience but nothing more – a set of pedals, gear lever, a handsome steering wheel and switches for the lights, wipers, indicators and horn. Oh, and a full length sunshine roof, what a fabulous touch.
I stepped out to take a closer look at the exterior of this little 500. She was impressing me even further sitting purposefully on her chrome capped wheels, sporting her aggressive cooling grills on the rear engine cover and the sturdy looking chrome work finishing the whole look of neatly. If Luigi from Cars had ever had a wife, this was her, Mrs Luigi was standing right in front of me.
Time for a spin in my new found fascination. The key is turned all the way and the ignition light is glowing brightly. But nothing is happening when I turn the key. Typical classic car I thought, never mind, I forgive her, must be the starter solenoid, let me find our mechanic. In fact, it was me the mighty Fiat 500 forgave in the end, it was driver error. In between the seats there are two black levers, pull one up to operate the choke, the other up to operate the starter. And then ensues a satisfying mechanical rasp that gives you the secure feeling she needs and likes revs. But not too much, she couldn't tell me her true RPM, I would have to listen out.
Straight away I noted she lacked synchromesh on first gear, and the long and the short of that statement means that you must come to a complete standstill before you can engage first gear again, or you produce a huge crunch from the gearbox that you feel through your arm too. Not good for either party involved. The clutch was light, the brakes responsive and although she was no performance car, she ruled the City of London that day with me at her wheel. We soaked up admiring glances and thumbs up wherever we went, we nipped in and out traffic through gaps that even a Smart car would struggle with and she made me feel cheeky and alive.
She herself was cheeky and full of neat surprises, as I discovered when I stopped to fuel her up, not that it was needed but it was my way of bonding with a new car. I sheepishly glanced around the car hunting for the fuel filler…and having opened the engine compartment only to find it was not there, there was only one option left – the front 'bonnet/boot' area. I released the two rubber bonnet straps and opened her up. There it was, the elusive fuel tank. I have had bigger drinks containers handed to me in the USA from fast food chains. I filled her up with a single twenty quid note, receiving enough change to enjoy an ice-cream before I jumped back into her, and for a car that I reckoned was doing 45 mpg plus that was more than enough petrol for now.
I did not have the chance to take her out on the bigger faster roads, but colleagues and clients subsequently did and she was just fine, but they had to take their time. I would say firmly that the little Fiat 500's stomping ground is a city, she loves a city and a city will always love her. If you own or buy one, do be careful where you park her…be considerate…because it only takes two determined and strong people to lift it up and move it!
As a cool classic that will not hurt the wallet too much, the Fiat 500 is up there for me. But stay tuned…one day I met the granddaughter of this little 500, and she was wearing an Abarth dress with matching jewellery, handbag and shoes.
---

MIKE ATWALL
This article was written and published by Mike Atwall. Mike works for Trade Classics as an in-house journalist and copywriter and has many years' experience in the classic car sector – for over 8 years he was the General Manager of the Classic Car Club in London and responsible for a fleet of over 100 cars worth multi-million pounds. So there's not much Mike doesn't know about makes, models, maintenance and idiosyncrasies of these old cars. Mike's a true petrol head with a deep passion for the classics and he loves to talk cars all day, so why not write a reply on this article below.
Google+
---
Tags:
classic car
,
fiat
,
fiat 500
,
original fiat 500
Categories:
1960s Classic Cars
,
Classic Car Blog
,
Classic Cars For Sale
,
Fiat
,
Mike Atwal