The Porsche 930 Turbo – Designed by Mr Satan!
Mrs Satan was now firmly accustomed to being a mum. The little devils, with only six minutes age wise between them were now in their final year at primary school. The school years had provided a daily break for Mrs Satan, and a few years from hell for their teacher.
Confused? Have a little read of my previous two articles and all will become clear; I Promise.
Mrs Satan was most pleased with Porsche's progress, she had kept a very close eye on their work and was now witnessing the third generation of 911 thriving. She fully approved of the impact bumper era. The mid 1980's were in full swing. She had kept Mr Satan out of Porsche's way for over twenty years now. Every time he even had the slightest urge to interfere he remembered how much his own poker hurt, especially in the hands of his beloved wife, and would find entertainment elsewhere. He also knew that if he did anything to jeopardise his wife owning her ideal bespoke Porsche 911 one day, All hell would break loose. Literally.
But Mrs Satan eventually felt a little bit bad for her husband, she knew it must be hard for him to behave and so she gave him a little treat. He could work his hell-ish charm once, but only to bring good to the Porsche 911 story. And so Mr Satan secretly decided he wanted to infuse some of his character into a current 911 model range. And he was an unforgiving and cut throat individual. There were no second chances with him. He had a temper that could flick on to maximum attack instantly. Go from hot to cold in a millisecond. He was an animal but was all the more a supreme being for it.
Mrs Satan took a back step as Porsche's 'guardian devil' and observed the birth of the Porsche 930 Turbo. She was proud of her husband's restraint and tolerance with Porsche, after all, all he had done was flare out the arches, fit a wing and bolt a turbo to the engine of an existing 911. But at the point that the car in question began to make its name as the 'Widowmaker', she gave her husband an almighty smack with his poker and he was banished to the spare room for a month. She firmly understood that she had been tricked, the wool pulled firmly over her devil eyes, and it was the first, and last time that he would ever have any input into her 911 dream in the making.
But why did she let him off so lightly? Because secretly she knew that although it was not his intent, his intent was in fact a bad one, he had inadvertently created the 930 Turbo; one of the best Porsche 911's ever. And I fully agree with her.
Sitting low to the ground, wide in stance, and airing aggression the de-chromed, rubber-ribbed-bumper garnished, 930 Turbo and instantly made me feel like I had found my ultimate Porsche 911. I knew wherever we would go, nobody would mess with us. A double hard pair we were. What did I know of the 930 Turbo then? Nothing. Not a sausage. I only had experience of a 1968 911T and 1977 3.0 litre Carrera. But I had driven turbocharged cars including Saab Turbo, Sierra and Impreza. I knew turbo lag, I knew violent boost and I knew how to handle it. I was the King of Gran Turismo 2 growing up. Bring it on. I didn't have a wife anyway, so the term 'Widowmaker' didn't apply to me.
Again, this Porsche 911 was near on identical to the previous generation, only subtle differences were noticeable and once more the whole car felt a little newer, more robust and neater. I couldn't put my finger on why it felt so but Porsche had managed it. In the 911 world, I am an amateur, I know very little about them, but I have my perception and experience of them. I guess not knowing too much about them allows me to enjoy them all the more…perhaps I have purposely, subconsciously steered clear of learning more.
I fired him up. Aggression. I have used that word yet again. Because he sounded angry, tough and yet completely in control. Like a psychopath smiles before murder, this Porsche 930 Turbo was calm, but I could feel it. Something was there. I had my wallet. Check. Phone. Check. False sense of security. Check. On I drove.
A four speed gearbox. I remember looking at it and thinking how can a car that is capable of 140 mph plus only have four gears? Then I dismissed that thought. I was having too much fun with the music up loud, windows down and posing. It was me, the 930 and the whale tail. All three of us ruled the Euston Road.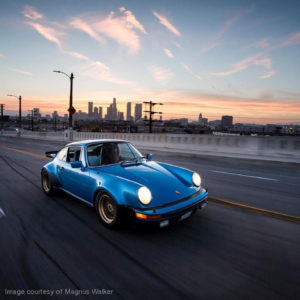 Ten miles in I have only used first and second gear, merely travelling up to 40 mph. The 930 got up to speed smoothly, briskly and the iron fist like torque presence was clear. Just like the older generation 3 litre then. Pretty much the same. So what was all the fuss about I thought? This 'Turbo Widowmaker' was just like any other 911, clearly other people couldn't drive. I could. I smiled. It had hit home. I was an excellent driver, capable of anything, even a 930 Turbo was easy for me.
An hour in and the 930 and I are firmly at home together cruising. Fuelling him up had produced light hearted conversation in the petrol station with fellow octane revellers. And the little trip to see a female friend for dinner who had said that the Porsche 930 Turbo suited me had made my evening. Or did I suit the 930? To this day I am not sure which way round it should be. Either way she delighted me with that comment. The 930 and I were indeed a handsome pair of gentlemen.
The drive home. It was after midnight and the roads were empty. The same route that my trusty 635csi would blitz in an hour was the order of the dry, warm and clear skied night. That slip road. The entry to the M40. Me and my shark-nosed six would enjoy her kick-down together and get up to motorway speed in an aura of straight six growl and satisfaction. But now I was in the 930. Flat six. With turbo. Rolling along from the roundabout merging into the slip road. The 930 sits in second gear. 2000 rpm. 2500 rpm. 3000 rpm. 3500 rpm. We had reached 50 mph in a flash. Only 10 mph more and we will be where we need to be pace wise for the road ahead. I press the throttle a little more. 4000 rpm. 58 mph.
Two more mph to go.
I press the throttle further, thinking of reaching over to adjust the stereo. I was bored of Manic Street Preachers. I was in the mood for the Lightening Seeds now.
4100 rpm.
Four thousand, one hundred revolutions per minute. A number and phrase I will never, ever forget.
SNAP.
I was pinned hard into my drivers seat, fluids forced to the rear of my stomach and brain, my feet were thrown off the pedals and my ears assaulted to what can only be described as a jet engine operating at full pelt 5 cm from my head. The 930 and I were now way in excess of motorway speeds. And I was shaking. Pure luck dictated that we were motoring on in a straight line at the time 4100 rpm arrived and that the perfect road camber and weather conditions both rooting for maximum grip had saved us from firing off sideways into the barrier. I gradually let off the throttle, I dare not release it harshly with the immense torque wave in progress. We began to slow down. I had to find the brake pedal and clutch again.
I pulled over in the services. Lady luck had produced a petrol station out of thin air. I began to collect my thoughts. That was intense. The 930 had gone mental. Without warning. He had smiled. Then murdered. Turbo. That was what had happened. Even if I been prepared for it, it would have scared the hell out of me. I stopped the Manic Street Preachers mid singing sentence. All I could hear and feel now was the menacing exhaust note at idle. Now it had meaning. The penny dropped. I understood why he only had four gears – because the gearing was very long, and that meant, as I had found out, to get the turbo going you have to be at a certain rpm. I wondered what first gear felt like on boost. How did it sound in a tunnel? In fact what was the magic rpm setting? It had all happened so fast, I had not been looking at the tachometer. It was in excess of 4000 rpm, I was sure.
I wanted to go back and start my evening over again. All the time I had lost with this epic 911 driving him incorrectly. Unforgivable. The double hard 911 that was only hanging around with me until tomorrow was addictive company. But my false sense of security was no longer. The 930 would get me into trouble out on the streets if I was not careful. Stereo was firmly off. Windows all the way down. A new autopilot for the night was born…
Is the 930 rolling perfectly straight ahead? Check. Time for a hit. One of the best hits a driver can ever experience. And to note when this hit came in. We drove around until the early hours of morning as the sun was waking up, hit after hit making time move far too quickly. The magic setting was 4100 rpm. Not 4000, not 4200, or 4150, it was bang on 4100. Tried and tested thoroughly. A 930 'hit' in a tunnel with the windows down is something that I really hope to experience again one day.
The Porsche 930 Turbo. He was a suave drug baron. Top of his game, untouchable. Not to be messed with. And he was dealing doses of the best hit in this world.
So should you buy a 930 Turbo?
Yes.
Even if you already have a 911, go buy one. It goes without saying that being an extremely technologically advanced and quirky peace of engineering, a specialist employed to maintain one is a must, and just like other 911's, be prepared to spend heavily from time to time. But it is almost like investing money into a property renovation…it should pay off one day, but at the very minimum you can enjoy what you buy and maintain on a daily basis. And don't worry, Mr Satan does not own the lease, all 930 Turbo's are of freehold tenure.
Mr Satan; I solute you.
Mike.
Make sure you do not miss the next adventure of 'Porsche 911 – The Devil's Own Sportcar' by signing up with your email address to receive it straight to your inbox – it's on the 964 – simply subscribe to my blog.
---

MIKE ATWAL
This article was written and published by Mike Atwal. Mike works for Trade Classics as an in-house journalist and copywriter and has many years' experience in the classic car sector – for over 8 years he was the General Manager of the Classic Car Club in London and responsible for a fleet of over 100 cars worth multi-million pounds. So there's not much Mike doesn't know about makes, models, maintenance and idiosyncrasies of these old cars. Mike's a true petrol head with a deep passion for the classics and he loves to talk cars all day, so why not write a reply on this article below.
Google+
Tags:
930 turbo
,
magnus walker 930 turbo
,
porsche 911
,
porsche 930 turbo
Categories:
1980s Classic Cars
,
Mike Atwal
,
Porsche - Devil's Sportscar
,
Porsche 911
,
Porsche 930 Turbo