We are constantly looking for ways to improve how our sellers connect to potential buyers.  So we are super excited to launch our latest product development to aid this, a first in the world of classic cars and the automotive industry; 3D Virtual Reality.
Distance has often been a physical boundary impeding both buyers and sellers, but now with our high-definition 3D VR reviews, our customers are able to get an immersive experience that gets them as close as possible to touching the car without actually being there.
Words don't do it justice, the best way is to take a look at some of the real life content we have within our current consignments, previewed below. Having said that though, we will tell you a little more about it. Here's what Adam from Trade Classics had to say the first time he experienced it; "I felt connected to the car. It gave me the feeling like I was making real life decisions on the car that I just don't get from viewing 2D content alone. It was an immersive near real experience".
We've been busy trialling and testing lots of different technology and creating different experiences before we decided on this, building upon our beautiful comprehensive photographic, video and detailed write-ups of the classic cars on auction.
It all boils down to enabling a connection between the sellers and potential bidders. The guided HD walkarounds we have already been producing are now taken to an immersive level, putting our customers in control of what they want to inspect on the car, helping them to make the key decisions on what to ask the seller and crucially how much to bid.
Watching this content is easy for our customers.
Our videos are hosted with YouTube so that you can access on any device, wherever you have internet access. We wanted to make it as easy as possible for our customers to get the experience, from what is quite complicated technology. Here are a few tips to get your started.
How to watch;
Make sure you have a fast internet connection. Our 3D VR inspections are recorded at a high resolution, and so we recommend you are connected to a fast WiFi network.
You'll need an up-to-date smartphone with the YouTube app. If you've got a smartphone such as an iPhone SE or above, then it will be capable of playing the 3D VR experience through the YouTube app on your phone.
Find the car on auction you want to view and load one of the 3D VR videos from the page in the YouTube app by clicking on the video title rather than the play button. We recommend setting the quality to 4K to see the pin sharp detail.
Click the goggle icon in the bottom right of the screen to enable the stereoscopic 3D view.
Place your mobile in to any VR headset – you can get these for as little as £5 in the shape of Google Cardboard, or we recommend something like the GOJI Universal VR Headset which is much more comfortable.
Even if you don't have a VR headset, you can still experience the 360 VR with any mobile phone, or control with your mouse on a computer, but we recommend the 3D VR experience to really feel like you are there.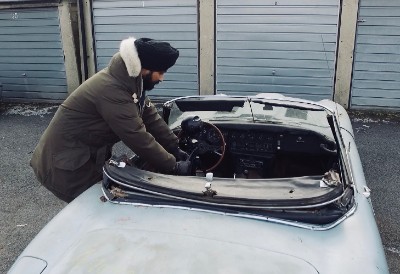 It's no secret that we love digital technology, but this isn't just us playing with tech toys, there is a real tangible benefit to connecting our customers. The equipment we use costs over £10,000 and is state of the art technology; it's no walk-in-the-park to create this content for our customers, but it's worth the effort;
There are 6 cameras to enable the full VR experience.
The content is shot in 4K (Ultra HD) so that the media is as real to life as possible.
Each camera shoots the content with a "fish-eye" lens, capturing as wide a viewing angle as possible. This is really important to ensure that all angles are captured, no blind spots, so that potential buyers can see all the detail.
Now the really complicated bit starts. 6 cameras, capturing video at Ultra HD resolution, with overlapping fields of view, needs to be processed to create the 360 experience. Using powerful computing, an advanced algorithm is used to match and stitch the video data together frame by frame.
The video data is also analysed to locate and understand what your left eye would see and what your right eye would see, this then produces a stereoscopic video file, that when used with a VR headset, enables the 3D experience.
The video file is encoded so that the projection of the image is mapped in terms of location relative to the viewers fixed position, this then enables the VR 360 control experience.
We've gone to these efforts as we want more people to have the joy of experiencing classic cars like we do, and this newest product development will help our sellers connect to their buyers in our safe and secure online auction rooms.
Pioneering this technology in the classic car and automotive industry is really exciting for us to launch and share with you, and makes us immensely proud too. We want to make it as easy as possible for our sellers and buyers to connect with one another and this is a big leap in that experience:
Buyers can complete a 360 virtual walkaround of the car, as well as getting a feel of what it's like to be in the driver's seat.
The 3D VR experience builds upon the beautifully shot photography and videos we produce to enable buyers to make a decision.
It's easy to access this content via a mobile phone and any VR headset and experience 3D VR.
Take a look at the first 3D VR content we have shot to help compare and contrast what you can expect; the dry stored perfect 'Fast Ford' Escort RS Cosworth and the 'barn find' series 2 Jaguar E-Type that will need a full restoration.
3D VR – Mobile Phone
Experience glorious 3D by putting your phone into a VR headset & then click on the
text links
below:
– 1996 Ford Escort RS Cosworth – tap here
– 1971 Jaguar E-Type Series II – tap here
The 3D VR video will then open in your YouTube app – simply select the goggles button and you're all set.
---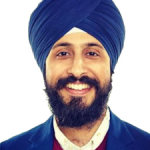 KULRAJ SINGH SALH
This article was written and published by Kulraj Singh Salh.
Kulraj is Trade Classics' COO and is passionate about classic cars and finding new ways to use emerging and innovate digital technology to connect buyers and sellers.
You can read more about Kulraj and his interests on our Meet the Team page.
---
Tags:
virtual reality
,
virtual reality car sales
,
virtual reality car viewing
,
VR
Categories:
car auction
,
Classic Car Blog
,
Classic Cars For Sale
,
Kulraj Salh
,
Virtual Reality