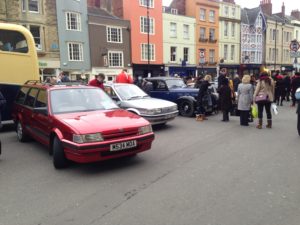 I find it hard to believe that the Austin Maestro has just celebrated its 30th birthday in March 2013!
Thinking back to the 80″s, many of my friends" parents would drop them off in a Maestro!  Or that"s how it seemed to me, now that I look back.
In March 1983, the Austin Maestro was unveiled as the replacement for the Allegro.
It was launched as the new answer for those looking for a mid-ranged family car, with a 5 speed gear-box and two litre engine.
It was a well-received launch!
The Maestro scored well on space. Compared to its rivals, it allowed much more passenger room.  The 5 speed gear-box on a car of its size, was very well-received.
However, the Maestro"s place in the market was always going to be tricky, as it was in direct competition with the Ford Escort.
Ford were able to support sales for the Escort with trade discounts, which BL were just not able to match.  However, the Maestro was not particularly high priced.  In fact, it was actually competitively priced compared to most other mid-ranged cars.
It"s probably also fair to say, that there was no real excitement about the look of the Maestro.  Style-wise it also lost out to the Escort.  However, it did have some nice features like the body-colour bumpers.
Put these factors together, and sadly the Maestro didn"t quite live up to expectations.  Sales figures peaked during the 1986 and 1987 sales years, but other than those particularly successful years, sales were generally disappointing.
Perhaps this was unfortunate, as it would seem that many Maestro drivers claim that it was a strong comfortable drive back in its day, and that it should be remembered fondly for this reason.
The chassis was particularly admired and became the standard for certain Rover models.
During its 11 year production cycle, BL tried to support the Maestro with a range of different marketing attempts to push the Maestro"s appeal.  This included various versions and the launch of the MG Maestro Turbo, which was capable of 128mph. But the Austin Maestro design, was never quite right for a sports version.
Despite all of the challenges, the Maestro stayed in production until 1994.
Going back to my initial comment…looking at the Maestro, does it really look 30 years older than today"s smaller family cars – maybe not?
I wonder if the fact that it was fairly conservative in its styling has had a favourable impact on the ageing-process of the Austin Maestro?
Please get in touch if you used to drive an Austin Maestro, or maybe you still do!
Whatever your thoughts, we"d love to hear them …!
---

EMMA JONES
This article was written and published by Emma Jones.  Emma works for Trade Classics as an in-house journalist and copywriter and has many years" experience in the classic car sector.  Why not write a reply on this article below – she"d love to hear your thoughts on her thoughts!Also, don"t forget to check out the classic cars for sale here on Trade Classics.Google
---
Tags:
Austin
,
Austin Maestro
,
BL
,
british leyland
Categories:
Classic Car Blog
,
Classic Car Chat