Remember my article on the Abarth 500? The owner described it as a hooligan. I was shocked…because the same chap owns a bonkers SLK55 AMG as well. I promised you the de-brief on Operation AMG, and I like to to stick to my word…
Mission #1 – Mercedes SLK 55 AMG & BMW 840ci – Southwold, April 2013
A small coastal town in the East of England. Tim and I are staring at two cars parked next to each other along the sea front. Our eyes are fixated on a Mercedes SLK 55 AMG, emitting a ticking noise from its hot exhaust and a BMW 840ci Sport, polluting the air with the acrid smell of burnt brake pads. We both stand wired from the adrenaline pulsing through our veins. The last sixty miles had been worthy of a chopper above us filming it all, complete with a director and a film crew on the ground. My 8 series had fallen in love with the AMG, following her through the tight twists and turns he felt young again, like he still 'had it'. But he was tired and couldn't keep up with the youngster, she was just too much of a free spirit and had worn him out. Both Tim and I, like parental guardians stood looking at this mismatched pair after their first date, confidence boost for the AMG, a reminder of his age for the 8 series.
It was the fist time that I myself had met the AMG face to face. Like Operation Abarth, there were four consistent measures. Me, my faithful 840ci, the road to Southwold and Tim. The AMG had the perfect laboratory conditions to show me what she could do because she was now the fifth, unknown element of the equation. But watching her disappear out of every bend, the rear end of the car squirming and the angry growl from the quad tailpipes still audible from far away, only catching her when my driving skills took on a BTCC style approach, I could see this car was untouchable. One of my consistent measures was way out of its depth here, he knew it and I knew it. On the drive home I told the 8 series not to worry, many of us do not win a second date when we want it. I still loved the mighty 8 at least.
Mission #2 – Mercedes SLK 55 AMG & BMW 645ci – Yorkshire Dales, November 2013
With epic roads such as the Butter Tubs Pass present in this beautiful part of England, it was time to play hard ball with the now cocky AMG. I had been car shopping. The 8 series needed a successor to take over the reigns so he could start a new, slower paced life. I wanted rear wheel drive, a car that was light on its feet, sported a V8 and held a notable exhaust tone. And that I got. In the form of a BMW 645ci coupe. I knew Tim's AMG boasted 355 bhp and after a re-map my new to me big six was proud to hold 357 bhp, so the paperwork said anyway, but I could feel he was more alive and responsive along with being more fuel efficient. I know that bhp does not mean anything, weight, torque, drive-ability, mechanical grip and so forth come into play, but I grew up playing Gran Turismo on Playstation 2, so I forgive myself for my childish attitude.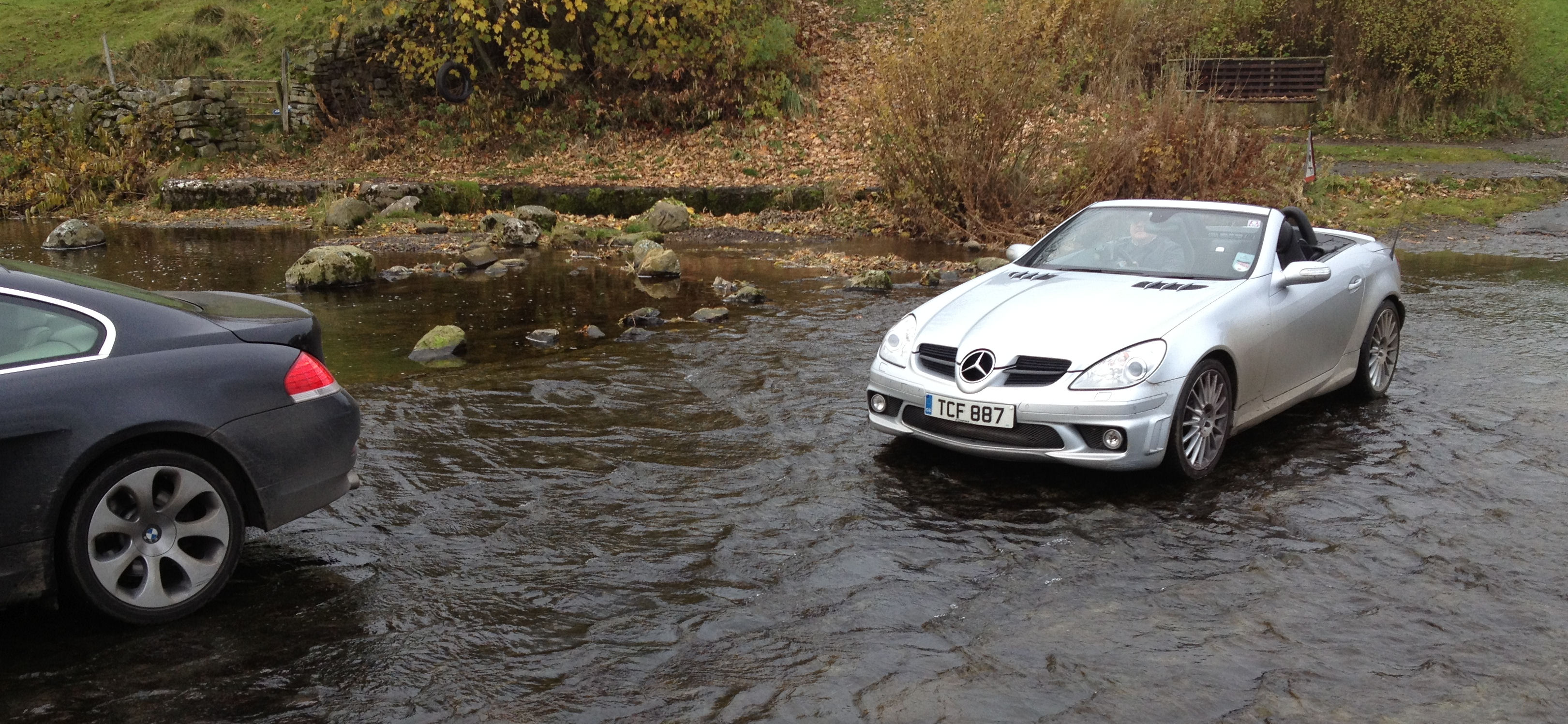 We set about chasing the AMG. We could keep up this time, even having to back off occasionally, the big six was powerful, he was very capable. We could lead the AMG and make headway sometimes too. Knowing my own and Tim's driving style, capability and limits well, I was able to conduct a fair experiment, choosing sincerely when to judge the AMG, and moments to ignore either cars triumph or failure during the mission. Over the course of three days I deduced she was not a one trick pony, she could do everything, and nobody ever tired of hearing her Spitfire like soundtrack. The tight twists, the long sweeping bends, straights that continue forever and rough surfaces, all gave the little AMG no trouble at all. She could even drive through a river. The big six was smitten like the 8 was, he even followed her into the river, dragging me with him.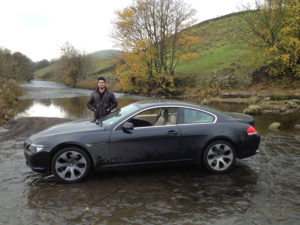 And so, although we knew the AMG a little better,we still couldn't quite figure her out. It had been the perfect first date and we were trying to decide if meeting number two should take place…if indeed my six even had a chance of a bagging this…a rendezvous that could potentially be the last or the start of something great. So I made every effort to choose a date on behalf of the big six that would entice the AMG. And she accepted. The 8, to this day, is still unaware of the six's outings.
Mission #3, Applecross Scotland, June 2014
Me and the big six, looking our best after a car wash session greet Tim, chaperoning the equally sparkling AMG on her date. Location, a petrol station just outside of Fort William.The AMG was worthy of the ultimate fifth consistent element, she warranted a huge testing ground with roads that would teach her and the big six a lesson, swallowing them up as opposed to the other way round, letting them explore each other in the process. The second date had not begun yet though, we were merely collecting her and taking her on a nice little outing to the place I had booked for the six to impress. And thus with the map spread out on the windscreen of the AMG, Tim and I ingrain destination Applecross into our minds.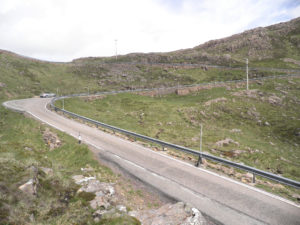 We took turns leading, knowing that once we arrived at this hidden gem on the West coast of Scotland it would be game on. Consisting of a mountain pass and coastal road that makes the Nurburgring look tame, this is where the AMG would be put through her paces , the tight switchbacks, hair pins, blind crests and long up and down hill straights of Applecross were to decide if the AMG wanted to see the big six again, and if the big six wanted to see the AMG again.
Using my BMW 645ci in equal measures as a pace car and tail gunner I confirmed that the AMG had instant throttle response from her 5.4 V8 with a monster exhaust note to accompany every shove of the loud pedal and the brakes seemed to cope with being pushed hard, the huge discs front and rear were clearly effective.
Hairpins were the AMG's party piece, she was able to dive in at speed under brakes and launch out like a squirrel up a tree. The big six had my full approval and understanding of being infatuated with the AMG, and unlike his stable mate the 8, he was in with a shot. Like a three course meal in a fine restaurant, our 900 mile round trip began with an appetizer – the super scenic drive from Fort William to Applecross via 'the pass of the cattle'. Nicely warmed up, we tucked into a hearty main meal in the form of the Applecross coastal roads and a trip back over the pass to park up and reflect. The big six now adored the AMG even more, it brought out the best in him but kept him firmly on its toes…and so he whispered in my ear that I needed to help him pull out all the stops for desert to wrap this second date up in his favour.
I did him proud, and courting session number two came to a close with AMG vs 645ci nose to tail for miles on the Drumbeg road, quite possibly one of the best roads in the world. The big six and AMG's second date was flawless from start to finish, no awkward moments, just pure fun.
Sat in the pub, pleased both our cars had survived their date number two, and us as guardians outing number three.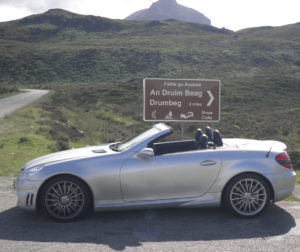 Tim elaborated his thoughts for the first time over our much needed pint.  He said, "I love top off motoring, roof down, heater on, exposed to the elements. She is a rally car, does everything, even in the heavy rain on tight roads that she is not designed for she goes well. I had her on an un-tarmacked road in Poland and she just got on with it. Brakes are good but not as good as a 2010 XKR I've driven, for £2k discs and pads at the front I expect more. Gearbox is slow, very slow, let's the car down, but I love the looks and she has the best exhaust note of any car – she growls. It is a proper two seater sports car, I don't need a jumped up saloon with rear seats like an M3."
It was the first time I have ever heard the phrase 'jumped up saloon' – I loved it, and I raised my glass to Tim's to show my appreciation for his wit.
"Under acceleration does your traction control light come on?" he enquired. I thought hard, and told Tim the truth – it had come on at two points, once in the rain and again when the big six went light over the crest of a hill. Tim was brutally honest. "My light was constantly on and off, pretty much on every time I came out of a corner!" he laughed.
"Have you ever turned it off?"
"No, do you want me to bin it?"
All of a sudden the penny dropped. I got it. I had the measure of the AMG. The car squirming its gorgeous rear end slightly infront of us roaring away out of each bend was under restrain. She was under manners. She was behaving. She was not on the limit, ever. She may be a hooligan but she had a restraining order to behave. I had to warn the big six. I sat in the driver's seat the next morning, unsure of how to break it to him that he was out of his depth…he could keep up now, and thus would do the AMG at present, but one day, unleashed on a bigger better road, self restraint dropped, she would be drawn in by a motor car with more power, dominated and lead astray. She would run off and leave him. Even Tim knew the big six was not good enough for her, after all, if we followed Tim's logic, then he was only a "jumped up coupe based on a 5 series". He didn't even have the all important 'M' in his name.
The big six didn't want to take the risk of having his heartbroken by the out of his league AMG, and so with grace and dignity we mutually decided to separate on good terms…I sold him to a chap who promised to take great care of him and let him chase XK8's and Audi A5's regularly.
I myself miss the AMG's antics. I can't take my long surviving 8 to meet her, she wouldn't give him a second look. And so I am saving my pennies…
Mission #4, Calais France, mid 2017
Team AMG and I have just driven off the Eurotunnel. I set the sat nav on my 5 litre V10 BMW M6 for the 'Transfagarasan Highway, Romania…' to be written 😉
Oh yeah, and if you like my articles then you can have them delivered straight to your lovely inbox – simply subscribe to my blog.
---

MIKE ATWAL
This article was written and published by Mike Atwal. Mike works for Trade Classics as an in-house journalist and copywriter and has many years' experience in the classic car sector – for over 8 years he was the General Manager of the Classic Car Club in London and responsible for a fleet of over 100 cars worth multi-million pounds. So there's not much Mike doesn't know about makes, models, maintenance and idiosyncrasies of these old cars. Mike's a true petrol head with a deep passion for the classics and he loves to talk cars all day, so why not write a reply on this article below.
Google+
Tags:
amg 55
,
applecross pass
,
best uk driving roads
,
bmw
,
bmw 645ci
,
Butter Tubs Pass
,
driving roads
,
drumbeg road
,
mercedes amg
Categories:
BMW
,
Classic Car Reviews
,
Mercedes AMG
,
Mike Atwal