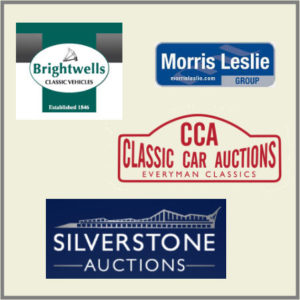 The next couple of months is all set to be a significant time for the classic car market, with over 470 classic cars being offered for sale by four top auction houses.
So why is this such a special time in the classic car market, well there are three key reasons:
1. Timing
Buying a car this early in the year will give you the opportunity to use it over the summer months and show it off at the many classic car events happening all over the country.  Imagine if you wait and buy the car in late summer, then it most probably will be tucked away all winter in a garage and you'll have to wait 6 months before you can use it again properly.
2. Market Values
The classic car market has gone stratospheric in recent months / years and is hungry for particular models and rarity.  This has had a positive impact on the not so desirable models by pushing their prices up.  You only have to look at the previously under-loved Porsche 911 Targa (across variants) to see the impact, these cars are now rising in value daily with the desirability of other models like the 993 going through the roof.  Or perhaps the Jaguar E-Type Series 2 – a year or so ago you could have had your pick in the circa £20k price bracket – now you'd be lucky to get a good one under £30k.  So in summary, if these sales go well then it will have an instant impact on classic car values across makes / models.
3. Choice
Buying at auction is a great way to buy a classic car with the extra protection you have.  This is because all cars have to be accurately described and vetted by the auction house.  Having nearly 500 cars available to choose from in just four sales is a great opportunity to find the right classic car for you, and your budget.  Remember though, you are still in essence buying a secondhand car – just an older one.  So it's important you do your research thoroughly and read up / gain advice from people in the know.  The auction houses provide good references / advice on buying at auction – so take the time to do your homework.
The following are the best sales on in May and June 2015 with three of my personal favorites from each one.
Silverstone Auctions – (80 cars – 23rd May – The Wing building at Silverstone circuit)
Pick 1 – 1974 Ford Escort RS2000 (£12k-£14k)
Prices of the rare and desirable Ford Escort Mexico Mk1 have rocketed and most people are now in the know, so you'll never get one at a bargain price.   However this is starting to be good news for other models in the range as prices are going up.
This very nice RS looks the business and has a race history together with that stunning yellow colour.
Pick 2 – 1969 Jaguar E-Type Convertible (£50k-£60k)
We've all seen the +£100k prices on Series 1 convertibles and they are still on the rise – so next in line is the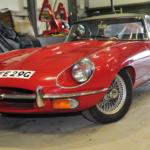 Series 2 convertible in terms of pecking order (from standard model range).
This much unloved series is on the rise so grab yourself a UK RHD manual transmission OTS (Open Two Seater) safe in the knowledge you've got yourself a rock solid investment, and one of the most recognisable cars on the planet.
Pick 3 – 1986 BMW M635 CSi (£16k to £18k)

It's true, shark nose BMWs are super cool – full stop.  So what better example to have than a 635 manual transmission finished in a special edition red.  This is a beautiful looking car, bullet proof and fast.  It was more expensive than a Ferrari 308 in its day.
You'll be part of an elite group of owners with only 524 RHDs ever made and just 87 left in service.  There's only one way the cool factor and values of these cars are going – UP UP UP.
Link to see all Silverstone auction lots: View Lots
Morris Leslie – (172 Cars – 23rd May – Errol Airfield, Errol)
Pick 1 – 1978 Jaguar XJ6 Coupe (£5,5k – £6,5k)
Jaguar XJs are on the rise and whilst being in the wilderness in terms of desirability for many years, they are well and truly out in the open now, and basking in the glorious sunshine of the classic car market.   I personally love the styling of the Series II and the pillar less couple looks simply stunning.  A lot of these have rotted away so getting good genuine and unmolested examples is difficult.  This one looks good and would be cheap if it goes within estimate, however, I personally think it could realise another £5k on top.
A lovely ride, lots of room and in a great colour – what's not to love about this very practical classic.
Pick 2 – 1997 BMW Z3 (£2k-£3k)
Okay so this one is a bit left field, but go with me for a minute – it will rise in value and become a proper future classic.  It's got all the key ingredients: appeared in a Bond film, bullet proof BMW quality, distinctive and good fun to drive.
So for a moment let go of the voice in your head screaming at you saying 'but it's a Z3' and think it though, and look at what you're getting for next to no money!  The quirky Z3 coupes are on the rise too and especially the rare M version.
Pick 3 – 1957 Triumph TR3 (£12k to £14k)
A true classic in British Racing Green.  Not many were made with most being exported to the US so sure to be a good investment and ticks all the items on any classic car ownership wishlist.  It comes with a desirable old English number plate too.
A great car to take to events over the summer and easy enough for the DIY mechanic to 'tinker' on.
Link to see all Morris Leslie auction lots: View Lots
Classic Car Auction – (78 Cars – 6th June – Warwickshire Exhibition Centre)
Pick 1 – 1969 Volkswagen Karmann Ghia (£10.5k-£12.5k)
The Karmann Ghia is an achingly beautiful car and looks simply stunning in white.  Sensibly priced classic car with all the pedigree to go with it.
This looks like a great usable example that will surely appreciate in value over time.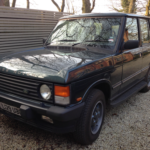 Pick 2 – 1994 Range Rover Vogue SE (£7k-£9k)
Range Rovers have always been a desirable car.  Even more so today with the ever impressive new models keeping their styling cues from the past.  Also, early  2 door Range Rovers are so sought after they are outside of most peoples' budgets now.  This has slowly increased the values of the 4 door models and prices of early 1990s cars are sharply on the rise.
It's hard to find an original example in good condition, however, this one certainly seems to tick all the boxes. Personally think it will blow the guide price if it's as good as it looks.
Pick 3 – 1999 Jaguar XKR (£7k-£9k)
The Jaguar XK8 has always been a beautiful car but like all Jaguars in the past, values fall to ridiculously low prices.  This has happened to the XK8 – they have bottomed out and good examples are now on the rise.  You can still pick up examples for sub £5k but probably best you stay away.  It's worth paying more for a well cared for / low mileage example and whilst reducing your cost of ownership risk, it holds value and potential to increase.
The XKR is the one to have and this colour combination is stunning.  Mark my words, these cars will climb significantly in value and we'll all wish we bought a barn full of them in 10 years time.
Link to see all auction lots: View Lots
Brightwells – Stondon Museum Collection (140 Cars – 10th June – Easters Court Leominster)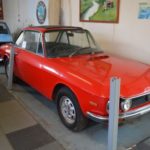 Pick 1 – 1976 Lancia Fulvia Coupe
The Fulvia is a beautiful Italian sports car and this one is no exception. Finished in the perfect colour combination of red paint and black interior it really does look lovely.
As this has been part of a museum exhibit for many years it will probably take some recommissioning.  However once done then it will make a very desirable classic car and look the business at shows in the summer.
Pick 2 – 1966 Sunbeam Alpine Series V
The Sunbeam Alpine is an under valued classic car at the moment. It looks as good as any Italian counterpart and is easy to work on / cheap to repair.  Prices range from a few thousand to mid-teens for restored examples.  This one needs a bit of TLC to bring it back to life but I'm sure its price will reflect that.
So a very sensible and potentially cheap buy for a DIY mechanic looking for a summer project.
Pick 3 – 1991 ADC Scout (Rover Metro based)
Okay so this is a totally left field pick (even more so than the Z3), but if it's exclusivity you're after then you'll have to go a long way to beat this!  It's one of only 6 cars ever made by ADC.  They weren't commissioned by Rover or ever put into production – you can read more about the car's history here.
It will certainly draw a crowd at any classic car show and you can drive about in the safe knowledge that it's rarer than a Ferrari 250 GTO.  But I know which car I'd prefer 😉
Link to see all Brightwells' auction lots: View Lots
So that's it – I hope you've enjoyed reading this article and it's given you the buzz to get moving and look for a classic car of your very own.
I'll be attending Silverstone, Brightwells and CCA so please say hello if you see me about.
Cheers,
Adam
---
Adam
This article was written and published by Adam – he owns Trade Classics and a devoted petrolhead with an ever increasing garage currently consisting of a 1968 Jaguar E-Type FHC, 2000 Jaguar XK8, 2004 Porsche 911 C2 (996), Porsche 911 C2S (997), 1977 Triumph Spitfire and a little Vespa scooter!
Why not write a reply on this article in the Facebook comments box below to share your thoughts Google+
---
| | |
| --- | --- |
| Follow Us | |
---
Tags:
bmw
,
brightwells
,
classic car auction
,
morris leslie
,
silverstone auctions
Categories:
car auction
,
Classic Car Auctions
,
Classic Car Blog
,
Classic Cars For Sale