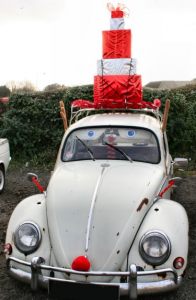 Just in case you were looking for an excuse to avoid Christmas shopping this year, we thought that we"d bring you the low-down on some seasonal classic car events.
Here are just a few pickings which we thought you might like.
If you are in the Cornwall area, this weekend will see the Christmas Cracker Run.  Hosted by Cornwall Vintage Vehicle Society, the event on Sunday 9th December is free of charge.  It starts at 10am and invites classic car owners to join the run to Portreath. See www.cornwallvintagevehiclesociety.com for further details.  If you can"t make Sunday"s run, there is a New Year run planned for January and others throughout the year.
If you are in the North West of England, Classic Cars will join the Christmas celebrations on the morning of Saturday December 15th in Congleton town centre.  From 9am Congleton Beartown Classic Car Club will be out on parade and will be bringing Santa to town in aid of charity.  Local radio station, Beartown FM, will be joining the festivities with a live broadcast from 11am.
If you are in Scotland and fancy picking up the pace a little, Sunday 16th December will see the Knockhill Hot Hatch Xmas Cracker in Fife.  Whether you choose to watch or race, this event at Knockhill Race Circuit will keep your Christmas spirit motoring.  The day will feature reverse track driving, competitions, car displays and other entertainment.  You can take along your own car for six 10-minute racing sessions during the day.  There is further information available at www.knockhill.com
If you are looking for a big classic car event, you might want to pop along to Donington Park in Derbyshire on Sunday 30th December for the 10th annual Classic Car and Bike Winter Restoration Show.  They"ll be plenty of stalls to visit both inside and outside, so you might want to wrap up warm.  This event will give you a good end to the year and the chance to have a little "me" time in between Christmas and New Year.  For details, directions and prices, visit www.classicshows.org
As always, New Year"s Day is busy in the classic car calendar. There are a number of classic car events to take you into 2013.
Up in Scotland, you could join the Caledonian MG Chilly Willy.  Hosted by the Caledonian MG club, the gathering will take place at lunch time at the Buchannan Arrms Hotel in Drymen which is only 30 minutes away from Glasgow.
If you are in the South West, Merlins New Year meet in Somerset invites all classic, vintage and modern sports car owners to come along to the meet at Haselbury Mill.  You do not need to book, but a delicious hog roast will be waiting for you from 10am until 2pm.
In the South East, Brooklands Museum in Surrey will host a classic car gathering for all classic and vintage cars or motorcycles.  This event will take place from 10am-4pm.  The 2013 event will be especially exciting as at 4pm, the event will flag off the cars involved in the London to Cape Town World Cup Rally.  If you would like further information on prices or directions, visit www.brooklandsmuseum.com.
These are just a few of the seasonal pickings, there may be other classic car events taking place near you.  If you have an event which we haven"t mentioned on this occasion, please get in touch and tell us all about it.
---

EMMA JONES
This article was written and published by Emma Jones.  Emma works for Trade Classics as an in-house journalist and copywriter and has many years" experience in the classic car sector.  Why not write a reply on this article below – she"d love to hear your thoughts on her thoughts!Google
---
Tags:
christmas
Categories:
Classic Car Blog
,
Classic Car Chat