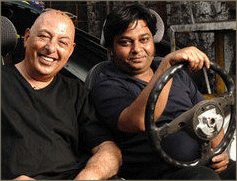 I can"t tell you how much I am looking forward to watching the first episode of Classic Car Rescue on Channel 5 on Monday 24th September at 8pm.
This new Channel 5 programme will see 6 hour-long episodes in which two classic car experts will restore great classics which have seen better days.  To use the programme makers" words, they will "restore shameful rust buckets to their former classic car glory".  Sounds good, especially when it seems that the first show will feature an E-Type Jaguar. Having seen a clip from the first episode, it is fair to say that no Jaguar deserves to be in the state that this one was in.
During the hour-long episodes, Bernie Fineman and Mario Pacione will work to a tight timescale on a limited budget.  In order to complete the restoration projects, they will search for bargain parts in scrap yards and back yards. This will be no easy task, as their searches will be focused on rare and original parts.
Many of us will already know Bernie Fineman from "Chop Shop", which was a popular Discovery Europe show.  Whilst he is a jolly character, with no shortage of East-End banter, Bernie can equally be very straight-talking.  He knows his stuff, having held a number of key roles in the motor trade, such as master technician, workshop controller and technical engineer.  Having never lost his desire to stay under the bonnet, he is one of life"s tinkerers!  His experience and knowledge take him across big motoring names from VW to Rolls Royce.
Bernie"s partner in the series , Mario Pacione, shares his passion for classic cars.  Mario, is an entrepreneur, with a wealth of experience in the world of buying and selling classic cars.  He has an eye for the right deal and has an established businesses which specialises in restoring classic cars.
Working towards the same goal, but coming from different perspectives, I am guessing that the restoration journey will not always be a smooth one.
In the process, we will also see them chat to some interesting and knowledgeable experts from the classic car industry, such as designers, engineers, owners and enthusiasts.
At the end of each restoration, the viewers will have the chance to win the restored vehicle in a classic car competition.
Future episodes will feature a range of classic cars which will be restored by the duo: a Mini Cooper, a Cadillac, a Ford Mustang, a Porsche 911 and an MGB Roadster. There seems to be something here for everyone, and no doubt plenty of tips for those of us in the process of restoring a classic car or those of us who are just dreaming of the possibility.
The launch of this new TV show, comes at a time when analysis shows that the right classic cars are performing very well in the investment market.  I suppose that Channel Five will be not only looking to attract viewers with a general interest, but also those looking for the potential to make money.
I am thrilled that there is a new classic car TV programme on the box, and will be tuning in at 8pm on Monday 24th September with a nice cup of tea.  If you miss it, I think that it will be re-shown on Thursdays and also on Demand 5 (iPad / iPhone and Android).
Can"t wait and good luck to all involved with Classic Car Rescue!
Emma
PS. click here to visit the official C5 website
---

EMMA JONES
This article was written and published by Emma Jones.  Emma works for Trade Classics as an in-house journalist and copywriter and has many years" experience in the classic car sector.  Why not write a reply on this article below – she"d love to hear your thoughts on her thoughts!Google
---
Tags:
C5
,
channel five
,
classic car rescue
,
restoration
Categories:
Classic Car Blog
,
Classic Car Debates
,
Classic Car TV