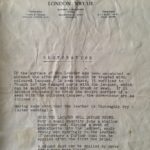 In the history file of Adam's Jaguar E-Type is this original leaflet from CONNOLLY BROS advising on how to restore leather.
Things were so much simpler back then!
---
CONNOLLY BROS
(CURRIERS) LIMITED
39/43. CHARLTON STREET, EUSTON ROAD
LONDON, NW1 1JE
RESTORATION
If the surface of the leather has been scratched or abrased the affected parts should be treated with coloured lacquer.  In some cases, it suffices to 'touch in' the damaged parts with the lacquer, which can be applied by a suitable brush or swab.  If it becomes necessary to tread the entire surface of a seat with the coloured lacquer, the directions are as follows:
Having made sure that the leather is throroughly dry (after washing) – 
STIR THE LACQUER WELL BEFORE USING.
Pour a small quantity int a shallow container and , dipping a swab of stockinette into the lacquer, apply evenly and sparingly to the leather.  If necessary a further coat can be applied after the first has dried.
A second coat can be applied by spray for a more even finish.
Carry out the above renovation in a warm dry shop, or in warm weather – this will prevent blushing.
---
Now if leather restoration was really that easy – things used to be so much simpler back then 🙂
---

EMMA JONES
This article was written and published by Emma Jones.  Emma works for Trade Classics as an in-house journalist and copywriter and has many years' experience in the classic car sector.  Why not write a reply on this article below – she'd love to hear your thoughts on her thoughts!Also, don't forget to check out the classic cars for sale here on Trade Classics.Google+
---
Tags:
connolly bros
,
leather restoration
Categories:
Classic Car Blog