When my friend Tim told me he had an Abarth on order I must confess I didn't really know what to expect – a new shape Fiat 500 with go faster stripes perhaps? Go faster stripes that warranted a four month lead time to take delivery? I didn't get it.
Exactly four months and two days later, I pulled up in my 645ci at our usual meeting place on a crisp Autumn Sunday morning, I was waiting for Tim so we could head out and do what we did best – a Sunday drive. Good roads, a three course lunch and a catch up on life slotted in for good measure. I had the window down, listening out for cars passing by, trying to guess what they were. Simple things please simple minds don't they?
"Porsche 996" – this next car approaching under load up the hill had to be a Porsche 911 from the early 2000's I thought, the deep roar and pops from the exhaust confirmed it for me.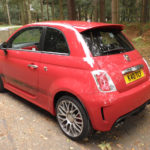 Except it wasn't. It was Tim. Pulling up alongside me with a cheeky grin and shouting across from his drivers seat out through the passenger window he asked "What do you reckon then?". I was most impressed. Tim walked me around his new Abarth, the black and red colour scheme looking menacing with the early morning mist haze still present. The upgraded Monza quad exhaust system was burbling away with purpose and aggression and the whole car looked a whole lot lower and wider than a regular Fiat 500, and upon stating this out loud I was told off immediately. "It's not a Fiat, it's an Abarth".
Lesson learned and never forgotten.

Modernising a classic car to resemble the old model from long ago is a difficult task, and in my opinion two manufacturers did this well, Ford with their Mustang from 2005 or so and now Fiat with this 500, and for the sake of accuracy for our current context, this Abarth.
It is just spot on, the car gives off the vibe that every element of design through to production and choice of materials was thought through properly. The interior is a wonderful place to be and full of neat modern touches such as the USB interface on the upgraded Interscope stereo. The optional red leather finished this attractive package of nicely, Tim had ticked the options box perfectly.
I was pleasantly surprised when I spotted a clutch pedal and a gearlever…and knowing Tim's driving style, if this new car was responsible for the huge grin on his face, it must be a mighty fine motor car.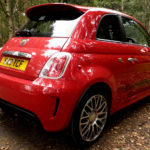 Now my guess is most motoring journalists would never dream of writing about a car they had never driven, but I find it intriguing to pit a car that I don't know, with a driver at the wheel that I do know, against a car that I know inside out with moi at the wheel…in short, I knew my Bmw 645ci very well, and spent many a mile across the UK's varied terrain following or leading Tim in various cars. I had four consistent measures – the road, my 645ci, myself and Tim. The fifth element would slowly reveal its character and capabilities to me.
Operation Abarth began!
Setting off in North Weald, with some long sweeping bends and hills coming up, this was firmly my territory. Me and the mighty 645ci always had the edge on roads like this, they are not Tim's cup of tea. Sport mode on, tiptronic mode engaged and the run flat tyres on my six playing ball as the road temperature was just right. It was all flowing perfectly and I became addicted to the V8 howl and loading the big six up into the corners. The rear view mirror should only have shown me sky. Instead I noted that Tim had also ticked the Xenon headlamp option, it took me four miles of studying the lights to twig this, but the first 3.9 miles were spent trying to lose the feisty little thing. I now understood why Tim pet named it the 'Roller Skate'. I just could not leave the 1.4 Turbo Abarth behind, and in the bends and under braking it was just 'there', firmly behind me.
We enter the tight twisty rougher roads, now in Tim's territory. He is the point and squirt, hard brake, point and squirt King. I never stood a chance here but I was all the more determined and the big six got an extreme working out brakes and suspension wise until I could see her suffer no more, I pulled in and the Abarth screamed past, the Monza exhaust giving me a live demonstration of how the outer two tailpipes are deployed at higher RPM bypassing the silencer to emit what can only be described as a naughty growl.
Over our three course lunch Tim told me that his new pride and joy managed 40 mpg on a longer run, sat in the mid 30's round town and today had averaged 30 mpg. I couldn't bring myself to say that my six had averaged just 14 mpg, I simply took another bite of my burger.
When I asked him to describe it in three words he paused for a moment, put his knife and fork down and smiled – 'fun, practical, hooligan'.
And coming from the man who drives a rip-snorting SLK 55 AMG too, calling the Abarth a hooligan sustains a lot of clout with me. So, stay tuned Trade Classic readers for operation AMG that was carried out on quite possibly one of the best series of roads in the world.
Mike 🙂
PS if you like my articles then you can have them delivered straight to your lovely inbox – simply subscribe to my blog.
---

MIKE ATWALL
This article was written and published by Mike Atwall. Mike works for Trade Classics as an in-house journalist and copywriter and has many years' experience in the classic car sector – for over 8 years he was the General Manager of the Classic Car Club in London and responsible for a fleet of over 100 cars worth multi-million pounds. So there's not much Mike doesn't know about makes, models, maintenance and idiosyncrasies of these old cars. Mike's a true petrol head with a deep passion for the classics and he loves to talk cars all day, so why not write a reply on this article below.
Google+
Tags:
abarth
,
abarth car
,
fiat 500 abarth
Categories:
Abarth
,
car auction
,
Classic Car Blog
,
Classic Car Reviews
,
Fiat
,
Mike Atwal