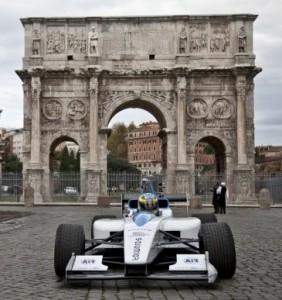 Plans are now firmly in place for the launch of the FIA Formula E series.  The championship will feature cars powered exclusively by electrical energy, and is set to take place in 2014.
The series will be organised by Formula E Holdings (FEH) and is likely to involve 10 races in the inaugural year of the championship.
Rio de Janeiro was the first city to commit to staging a race in August 2012, and FEH have confirmed that a number of cities have expressed an interest.  The first confirmed European city is Rome.
The races are expected to be "urban" in nature and will involve racing around major landmarks in major cities, such as the Colosseum of Rome.  In fact, when Rome announced its enlistment last year, it did so in style, with a Formula E car in the streets of Rome.
Not only are the big cities of the world getting involved, so are some big names.
Formula E is now a confirmed open championship, and FEH is working to encourage constructors to build cars and compete in the championship in 2014.  They are aiming for a starting grid of 10 competing teams and 20 drivers.  Demonstrations of the first Formula E cars are expected this year.
In November 2012, McLaren announced that it would design and build the powertrain for the first Formula E cars, working with Spark Racing Technology (SRT).
Drayson Racing Technologies LLP (DRT) has announced that it has officially agreed with FEH to take part as one of the ten Formula E teams for 2014.
Based in Oxfordshire, England, DRT is a business which focuses on the Research and Development of low-carbon motorsport. DRT are well-respected pioneers in electric racing.
They are set to race two drivers and are already talking to some of the world"s leading drivers in order to form their team.  They are also are now in discussions with SRT and McLaren regarding testing for the Formula E car.
From 2015, following the inaugural year of Formula E in 2014, DRT plans to become a constructor in its own right. They plan to field a new drivetrain developed from the advanced electric system that set a new electric speed record at Goodwood last summer.
Lord Drayson, Team Principal at DRT said, "We are hugely excited about the prospect of competing in the opening season of FIA Formula E. We aim to be one of the front runners from the start"
Equally, FEH announced their delight at the announcement of confirmation of the first of the ten teams for the Formula E championship in 2014.
The Trade Classics blog will keep you updated on all the important developments on Formula E.
---

EMMA JONES
This article was written and published by Emma Jones.  Emma works for Trade Classics as an in-house journalist and copywriter and has many years" experience in the classic car sector.  Why not write a reply on this article below – she"d love to hear your thoughts on her thoughts!Also, don"t forget to check out the classic cars for sale here on Trade Classics.Google
---
Tags:
electric car
,
formula e
,
racing
,
rome
Categories:
Classic Car Blog
,
Classic Car Chat