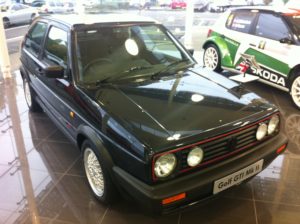 Take a good look at this black VW Golf MK2 1.8L classic car with rainbow interior – quiz time :
How old is this car?
 How many miles do you think that it has covered?
The answers are…to be found at the end of this article!
Without giving away too many clues, this particular model is one of the most recently made MK2s.  Production of the MK2 dates back to 1983 when it was launched in the Frankfurt motor show.  Unsurprisingly, this second generation Golf took over from the MK1.
It was made as a 3 and 5 door hatchback, however, a cabriolet version of the MK2 was never made.
Its technology was recognised in 1985, when "What Car?" awarded it the prestigious title of "Car of the Year".
Sales wise, it was a popular model during the 1980″s, however it was never counted amongst the top 10 selling cars in the UK.  It came quite close in 1990, when it finished 12.
What"s really remarkable about the MK2 is that despite being 20 years old, it"s still a fairly common car to online casinos see on the UK roads.  It"s also a popular car to see on the race track too!  In fact it remains an all-round popular car today.
The Mk2 Golf GTI Championship is a race organised especially for MK2 drivers, and was created by four VW enthusiasts.  The idea behind this club was to create a low-cost racing opportunity for MK2. Therefore MK2 drivers can enter a number of races with cars that have only been moderately modified for racing, and hence low-cost.  The popularity of this group has developed, and they now hold a number of events during the year at tracks across the country.  Due to the impressive growth in the number of entrants, the MSA (Motor Sports Association) have awarded the events with championship status.
If you are an owner who shares a passion for all things MK2, but not necessarily racing, then you can become a member
of the MK2 fan club – where you can take part in forums and share photos of your pride and joy.
So then, back to the car in question :
This car was built in August 1991 and is a 1992 model (so it is 21 years old at the time of writing this blog)
It has covered an unbelievably low 10,000 miles
To give a few other details:  it has alloy wheels, rear spoiler, sport seats and sliding sun-roof.
Here at Trade Classics, we think that it might be the best MK2 in the UK….but we don"t know for sure?  It"s part of the VW Group collection of cars and is currently being shown off at the companies UK head office in Milton Keynes.
---

EMMA JONES
This article was written and published by Emma Jones.  Emma works for Trade Classics as an in-house journalist and copywriter and has many years" experience in the classic car sector.  Why not write a reply on this article below – she"d love to hear your thoughts on her thoughts!Google
---
Tags:
black golf
,
classic vw golf
,
golf mk2
,
vw golf
Categories:
Classic Car Blog
,
Classic Car Debates