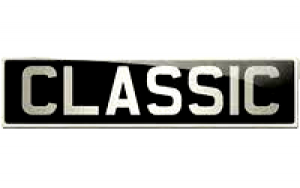 You may recall that I mentioned a number of "if, buts and maybes" for the process of importing your classic car – well, unsurprisingly the theme continues here!
It"s wisest to arrange your insurance as soon as possible, and in most cases this can be set up with your existing insurer, or you may choose to look elsewhere.  If you have any doubts or specific questions concerning insurance, you should contact the British Insurance Brokers' Association (BIBA), who will be able to advise you on where to find the cover you need.
In order to arrange your car insurance, you"ll need to use the Vehicle Identification Number (VIN) or chassis number of the car.
Then you"ll need to arrange for a MOT to be carried out on your classic car as you will need a GB MOT certificate.  If you are unsure about this part of the process, you can contact the Vehicle and Operator Services Agency (VOSA).
You will also need Type Approval for your car.
Your car may have a Certificate of Conformity.  This needs to state that the vehicle is suitable for driving on the left-hand side of the road.  If this is not stated, then you could contact the European manufacturer.  For a fee, they may be willing to grant a certificate of conformity.
Otherwise, if your car has been imported from within the EU, then you will have to follow the Mutual Recognition Process AKA the Commission Notice Procedure.
This is basically a way to declare that your car is fit for UK roads, as it checks the suitability alterations which have been made to your car.  You will pay a fee, and will be granted a Vehicle Certification Agency (VCA) certificate once all of the paperwork has been checked.
If your car has been imported from outside the EU, such as Asia or North America, you will need to follow the Individual Vehicle Approval (IVA) process.  In this case your car will be examined and you will receive a Individual Approval Certificate.
Next, contact your local DVLA office. It is quite a specialist registration process and takes about a week to complete. In some cases, the DVLA may request to see the vehicle. If this is the case, you are allowed to drive your car for the appointment – despite it not being registered.
You will need to take your conformity documentation, insurance and MOT certificate.  You will also need to complete the V55/5 application form.  The DVLA can provide a leaflet to help you complete this. In addition, you will need to provide :
£55 registration fee (correct at the time of writing this article – Oct 2012) and payment for the tax disc (you will pay the First Year Rates for car tax if the car was registered abroad for less than six months, or if the car has completed less than 6,000 kilometres)
The foreign registration document of your car
Paperwork showing the date on which the vehicle was imported, plus the required HM Revenue and Customs documents
Proof of your name and address (the usual strict rules apply here : passport, driving licence, utility bills etc). The DVLA website has a list of approved identification documentation, so it would be worth consulting this when you are putting your paperwork together.
Once approved, you will receive a registration number for your car which will reflect its age, plus a tax disc and also a number plate authorisation certificate so that you can get the plates made.  You will also receive your registration certificate within four to six weeks.
At this point, you can start to think about the pleasure of driving your imported car in the UK – enjoy !
---

EMMA JONES
This article was written and published by Emma Jones.  Emma works for Trade Classics as an in-house journalist and copywriter and has many years" experience in the classic car sector.  Why not write a reply on this article below – she"d love to hear your thoughts on her thoughts!Google
---
Tags:
europe
,
importing classic cars
,
uk
,
usa
Categories:
Classic Car Blog
,
Government Policy