Japanese classic cars – do they exist?  That"s what I"ve been researching recently and generally speaking there are doubts surrounding the "classicness" of Japanese cars.
Some would argue that it"s not too difficult to understand why; it"s a case of  "old money" versus "new money" situation – you might call it snobbery perhaps!
There seems to be a perception that Japanese cars lack heritage.  Meaning that perhaps the Japanese classic car market is a little young, but is that really true.
Japanese cars mainly came on the scene in the 1960″s.  It generally takes a car about 25 years to become a classic, or more importantly a rare classic, so on those terms the Japanese car is little behind other western car makers.
But old enough, surely?
The Japanese have been producing cars since the early 1900″s – bet you hadn"t realised that!
But you probably did know, or assume, that pre-1960″s the Japanese car market was dominated by foreign car producers with Japanese subsidiaries, such as Ford and Chrysler.  Therefore prior to the 1960″s, Japanese cars were based on European or American models.
Increased incomes in Japan fueled the demand for cars in the 1960″s, and the domestic market started to get itself into shape.  Current well-known makers such as Toyota and Mazda went into production.
By the 1970″s, the Japanese market was rapidly growing and started looking towards the export potential of the American market and others.  By 1980, Japan surpassed the US in order to become the highest producer of motor vehicles.
During the 1980″s, Japanese car makers broadened their manufacturing potential by setting up overseas manufacturing plants.  In 1982, the Honda Accord was to become the first Japanese car to be produced in the US.  Couple this huge amount of production activity with the fact that the Japanese were successfully able to manufacture desirable and affordable cars, resulted in Japan becoming the lead car producing nation in the world by 2000.  China now holds this title, but Japan remains one of the lead producers.
So the history is there!
Who said Bond cars have to be British?  The Toyota GT2000; the first real sports car offered by Toyota, is also interesting as it was featured in the Bond film "You Only Live Twice" with Sean Connery.  These models can be valued at around $250 000!
So maybe classic car fans or collectors should start looking at the Japanese side of things.
Need another reason?
You only have to consider American classics.  There was a time where a collectible classic car, with the emphasis on "class" had to be European in order to push all the right collectable buttons.  Now certain American models are now firmly placed in the valuable collectable category.
Is this what"s about to happen with the Japanese classic cars?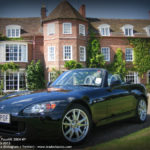 My prediction for a future Japanese classic car is the lovely Honda S2000 – not many were made and quite a few written off.
It was built from the ground up as a birthday present to Honda, so had massive investment in technology.
I"d buy a 2004 model (the one with all the good changes on) with low miles and keep it in the garage for 20 years.  Better than money in the bank I think!
Speculating is fun and we"d love to hear your views – especially if you own or even collect classic Japanese cars.
---


EMMA JONES
This article was written and published by Emma Jones.  Emma works for Trade Classics as an in-house journalist and copywriter and has many years" experience in the classic car sector.  Why not write a reply on this article below – she"d love to hear your thoughts on her thoughts!Also, don"t forget to check out the classic cars for sale here on Trade Classics.Google
---
Tags:
datsun
,
japanese
,
japanese classic cars
,
mazda
,
toyota
Categories:
Classic Car Blog
,
Classic Car Chat
,
Classic Car Debates