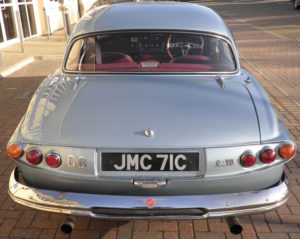 Being true to my status as a "Playstation Baby" I didn't really know what a Jensen was. The Interceptor I knew of briefly, but a Jensen C-V8? Is that not a type of battery for a watch?
They say that love strikes when you least suspect it and it did indeed do just that. My infatuation for the Jensen C-V8 began on the side of the M11 just south of Duxford. It was an exciting day, we had just collected three new cars to welcome to the club, a baby blue Ford Capri mk1, a dark blue 1975 Aston Martin V8 and light blue Jensen C-V8. I had called first dibs on the Capri, Aston's I had driven, C-V8 I had never heard of so I dismissed it. But when I saw it I was shocked, how could this be any relation to the square edged Interceptor?
Having made my bed, I chugged away in the pristine Capri, under whelmed by it, never meeting your heroes sprang to mind. But love finds a way to entwine itself with you. The Aston and Capri began to misbehave leaving the perfectly running C-V8 the only choice of car to whisk one of us back to base for a important meeting. That someone was moi.
Walking up to the hum of the V8, all 6.3 litres of it, and stepping into the C-V8 for the first ever time, I felt like a man. I felt that I had the perfect accessory for my three day stubble and leather jacket. Moving the gear lever from 'N' to 'D' I noted that she did not have a 'park' position. A big car like this? Relying solely on the handbrake? That did not matter for now, I am riding the torque of the calm V8 up to 50mph. Yes the limit is 70mph, but I wanted this journey to last forever and for all to see me. Cars were slowing down to take a closer look at this handsome motor car in pristine condition. What was it? What is that badge on the front? I assume most thought that as in traffic I lost count of pedestrians snapping pictures of the bonnet badge with their phones.
I arrived back at base and parked her up. The moment I got out of the car I felt naked, less manly and somewhat sad – I would be leaving my new found love and sidekick here in the garage – she was not mine. And I knew that feeling this way, coming from a chap who drove up to ten different cars a day, this one had captivated me good and proper.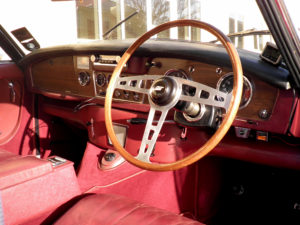 Over the following five years, many cars joined the fleet but 'Jenny' remained on her top spot, still to this day. What did I learn about Jenny the C-V8 then? It would be an injustice to the C-V8 for me to claim to tell you everything I know in this article. There is simply too much I learnt about this car, so I guess I must summarise to equip you with enough insight of my opinion to recognise one of these rare beasts when and if you see one in your lifetime. First step, take a while to look deeply into the photographs, can you spot the hint of DB5 roofline? The face of a Citroen DS? The rear arches of a Stingray?
Only 500 were ever made, they run a Chrysler V8, the body is fibre glass and they run the only automatic gearbox I have ever seen that does not incorporate a park position. Value wise one can be yours for 30 to 40k. The bonnet opens using the key. Most think it is the petrol flap. Now you are fully qualified to talk about the mighty C-V8 in a pub of your choice.
For any C-V8 specific questions please comment below I will try my best to help.
Tune is next week folks to hear all about the car that almost knocked Jenny from her pride of place.
Mike
---
MIKE ATWALL
This article was written and published by Mike Atwall. Mike works for Trade Classics as an in-house journalist and copywriter and has many years' experience in the classic car sector – for over 8 years he was the General Manager of the Classic Car Club in London and responsible for a fleet of over 100 cars worth multi-million pounds. So there's not much Mike doesn't know about makes, models, maintenance and idiosyncrasies of these old cars. Mike's a true petrol head with a deep passion for the classics and he loves to talk cars all day, so why not write a reply on this article below.
Google+
---
Tags:
jensen
,
jensen classic cars
,
jensen cv8
Categories:
Classic Car Blog
,
Mike Atwal