1977 Porsche 911 3.0L Carrera
I can picture Mrs Satan sat at home with screaming identical twin devil babies. They are doing her head in. With only 2 years each under their belt, one hangs from the lampshade, the other is kicking the TV.
But she smiles. Because she knows that when she pulled rank over Mr Satan in her early twenties and gave Porsche the green light for instant and infinite success with their mighty 911, she did the right thing. She can see that Porsche are well on their way to producing the perfect 911 for her in the future. Only another twenty or so years to go. A 911 in which she would roam the roads freely once the kids were fired out the front door of No. 1 Hell for good.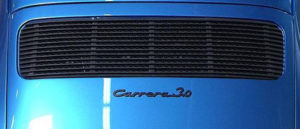 The image of Mrs Satan smiling amid mayhem was created in my head thanks to the era this mighty red 911 comes from. She was the next Porsche I experienced after my initial encounter with a 1968 911T (previous article). Welcome the 1977 Porsche 911 3.0L Carrera, presented in Guards Red. Red, in Mrs Satan's honour perhaps?
What the hell I am talking about I hear you cry? Have I gone mental? Have a read of my previous article (link here to the 911T article) and you will reveal my sanity and give my words above meaning. I promise.
Walking up to the superbly shiny bright red Porsche 911 3.0L Carrera was a special moment for me. It still remains one of the most pristine cars I have ever driven, and when I say pristine, I mean immaculate. It became 1977 as I opened the door and I had to have been in a Porsche dealership to justify the like new condition. I settled into the pin stripe seat and took in my surroundings. Memories of the little 911T surfaced. Fuel flap release was in the same place. The dashboard looked very similar. The indicator stalk was near on identical, as was the gear lever. The windscreen and wipers held the same demeanor over the almost identical bonnet view. Nothing much had changed…everything just felt slightly stronger, heavier and neater. She was simply a decade on engineering wise from the eary 911T.
Upon firing the beautiful red 3.0L Carrera up I instantly felt that she was more mature and powerful than her mother's generation of the 911T. Remember the non threatening exhaust note I said the 911T sported? Well, girl-power was firmly in with this generation and she stamped her authority as a performance car from the word go. She was saying it all with her deep, bass toned, yet sexy idle. She was threatening.
She took after her mum's generation gearbox wise. Gently into first and crucially at a standstill was the way forward. She was born without synchromesh I think and boasted a gear change with an equally long yet firmer throw than the older 911T. The brakes were more powerful and the throttle more progressive. She was the epitome of Porsche keeping the design the same overall as it was spot on to start with, but taking full and clever advantage of advances in materials, technology and manufacturing processes.
On the road she felt more compliant and planted, cornered better and her steering had ramped up its game of precision. Advances in tyre technology had no doubt tickled the drive a little too. This red 911 was fast. Really fast. The flat six produced torque from the word go on the tachometer and threw the car forward into the distance, working away elegantly in the rear, leaving the aggressive exhaust note's echoes lingering behind in the frantically disturbed air.
Guards red is a superb shade of paint. It suits the Porsche 911's bodyshell perfectly. Everywhere we went heads would turn and positive facial expressions were brought about. The 'cookie cutter' alloys were my favourite part of the package, I had never seen them before. A truly timeless design from Porsche. The large metal sunroof, with its operating switch hidden under the dashboard was a pleasure to use and enjoy. Even the rear wiper, with its specific control on the dash felt special. It lived on from a day where a rear wash wipe classified a car as 'fully equipped'.
All the controls were the same. Opening the bonnet, the engine compartment, even the seat controls. All I could spot were adjustments in the looks department…not as much chrome, more black rubber and plastic; tastefully used. But when I opened the engine compartment my breath was taken away. The 911T had looked fairly familiar in terms of mechanical parts like a carburettor and distributor. This little 3.0L Carrera 911's heart consisted of many metal and rubber pipes, looms of wire connecting black boxes to other black boxes and lacked any spare space in the engine bay. So it was clear that this younger 911 was a high maintenance soul too like her mum's generation.
But I just want to highlight something here. By high maintenance I do not mean unreliable, or unpredictable. I am simply stating that due to being an intricately designed and manufactured performance car employing air cooled technology and boasting many Porsche specific mechanical set ups, a specialist should be enlisted to carry out all servicing and repairs. This way you keep your Porsche running as it should. And 'as it should' offers a lot. Don't miss out.
Parts for Porsches of this era are beginning to become rare and costly. I had to locate a reverse idler gear for the little red 911 we see here when she needed some attention to her gearbox. And believe me when I say it was hard to find and the cost was substantial. But for a car that seems to be set to appreciate more and more in value, popularity wise and with its street cred, I think her generation is firmly worth the money you may have to lavish upon them.
With two Porsches now under my belt, I was on a roll. A roll that saw me move right into the path of a male 911 from the 80's. A male 911 that was at the top of his game then and still is. He was a character not to mess with. An animal. Step out of line and he would deal with you accordingly, the first time. No mercy. No second chances.
Make sure you do not miss the next adventure of 'Porsche 911 – The Devil's Own Sportscar' by signing up with your email address to receive it straight to your inbox – the next article will be on the mighty Porsche 930 Turbo – simply subscribe to my blog.
Mike
---

MIKE ATWAL
This article was written and published by Mike Atwal. Mike works for Trade Classics as an in-house journalist and copywriter and has many years' experience in the classic car sector – for over 8 years he was the General Manager of the Classic Car Club in London and responsible for a fleet of over 100 cars worth multi-million pounds. So there's not much Mike doesn't know about makes, models, maintenance and idiosyncrasies of these old cars. Mike's a true petrol head with a deep passion for the classics and he loves to talk cars all day, so why not write a reply on this article below.
Google+
Tags:
1970s porsche 911
,
3.0 Carrera
,
guards red
,
porsche
,
porsche 911
,
porsche carrera
,
prosche 3.0L Carrera
Categories:
1970s classic cars
,
Classic Car Blog
,
Mike Atwal
,
Porsche - Devil's Sportscar
,
Porsche 911