Once upon a time, in a land where men used hammers and screwdrivers to bring their ruler and pencil born ideas to life, the technological wave of diagnostics was still far out at sea and the Beatles were set to conquer the world, cars had one main feature in common – they were predictable. They rusted, failed to start from time to time and it was acceptable to have to replace parts and rebuild engines after certain mileages. If something went wrong, a mechanic would have to investigate using their senses and put it right. Or hit it with a stick, good old Basil Fawlty, he knew what he was doing.
Roll on fifty years. ODB II.OBD 1.5. ALDL. JOBD. No I haven't fallen asleep on my keyboard, these are all diagnostic systems that remove the need for physical investigation when a car starts to misbehave. In the days of the Beatles, the only lights present on a dashboard offered dial illumination, handbrake warning and an ignition light. Today, in our mp3 and 'do it all from your smart phone' era, lights are littered all over the dashboard. Some of which mean MOT failure. When a light pops up, a computer is plugged into the car and tells you that coil number three has given up or your MAF is faulty. Or gives you a huge number of reasons why your airbag light is glowing brightly in your face.
Chasing an airbag light fault on a BMW Z4 from 2005 for example is a can of worms – the culprit could live in the wiring loom, the airbag itself, the seat belt pre-tensioner, or the module to name a few components. You will be at the mercy of chasing the fault to solve it because you will not be granted an MOT with the light on. Costing you good money because the process is not predictable therefore it is unlikely to be quoted in advance or capped at a certain level. Once you fix the airbag light perhaps next year the ABS and traction control light will grace you with its presence for more fun and games at MOT time.
And thus I arrive at my quandary, could an old car be easier and more predictable to maintain, i.e. a reliable classic car?
If a classic car pre-diagnostic era had failed an MOT, most likely due to rust, ball joints and perhaps the horn not working, these are all fixes that have a predictable and quotable cost from a mechanic. To entertain this thought further and taking into account the probable desire for a certain level of electronic trickery and safety, we must find the sweet spot, the perfect cocktail of technology infused with simplistic yet effective engineering. I believe the 1980's might be just the ticket. Enter the 80's icon that is the BMW 635csi with it's striking design and exhilarating drivetrain.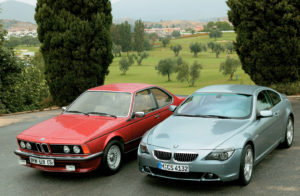 Now enter the 2005 BMW 645ci, famous for the daring rear end styling from the Bangle era and packed full of toys and gadgets. I owned both and I can tell you that when the modern 6's parking sensors failed, the air bag light popped on, the sat nav gave up and the engine developed a water leak the car was frustratingly too clever and intricately engineered to fix easily and economically. When I had a puncture the run flat tyres kept me moving, but a spare tyre would have been marvelous to get me on my way properly, and by spare I mean full size like my old 6 had. When the battery went flat due to me not driving it for a long time I had to think twice about jump starting it so as not to fry the sensitive electronics. The old 6 however, she didn't mind the odd boost to get her going. She didn't have parking sensors or a weak spot in the cooling system. Nor did she have satellite navigation, and thus I would not be looking at a blank screen 'missing' something that I never actually needed! Parts we generally cheaper too and the diagnostic system was effective but straight forward to work on. Yes, the old 6 would rust, but that was predictable and quotable by a garage. And you know what? The old 6 was better to drive, cheaper to insure, sounded better and was a far more handsome car all round.
So remember folks, although we have progressed technology wise with cars, it also ties us into being at the mercy of computers to tell us what is wrong come MOT time or breakdown time. Don't be scared of the 80's car you lust after, it might just be easier to run than you think due to simpler diagnostics, fewer gadgets to go wrong and the ability to cover it on a classic policy.
Why not kick off the 80's dream by checking out these beauties we have listed here at Trade Classics, one might just have your name on it.
---
MIKE ATWAL This article was written and published by Mike Atwal. Mike works for Trade Classics as an in-house journalist and copywriter and has many years' experience in the classic car sector – for over 8 years he was the General Manager of the Classic Car Club in London and responsible for a fleet of over 100 cars worth multi-million pounds. So there's not much Mike doesn't know about makes, models, maintenance and idiosyncrasies of these old cars. Mike's a true petrol head with a deep passion for the classics and he loves to talk cars all day, so why not write a reply on this article below.
---
Tags:
classic cars
,
mike atwall
,
reliable classic cars
Categories:
1980s Classic Cars
,
Classic Car Blog
,
Mike Atwal