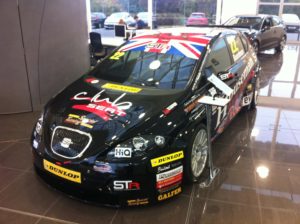 If you"re a fan of British Touring Car Championship racing, then you might recognise this car ?
It is Tom Boardman"s SEAT Leon TFSI from 2011.
With this car he finished 11th at the end of the season, and won the Knockhill race in September 2011.
It"s a mighty car.  Having been sponsored by Club SEAT (and others), it was looked after by the Tom Boardman"s Special Tuning Racing team.
It"s a 5 door SEAT Leon Cupra, and to name a few if its features: it boasts a turbo-charged 4 cycinder 16 valve engine; 6 speed gear box; and front and rear suspension with anti-roll bar.
The British Touring Car Championship (BTCC) is an institution with over 50 years of history.  The events take place over 9 different tracks and there are over thirty races per year.
With speeds reaching around 140miles an hour, the excitement levels are high, and you can see why it"s every little boy"s dream follow in the footsteps of  Tom Boardman and the other drivers.
As the son of a rally cross driver, Tom Boardman was born into motor racing.  He became the youngest ever BTTC driver in 2001, with his own family-run racing team.
His greatest title to date was to win the SEAT Cupra Championship in 2005, when a rule change allowed independent teams to enter the championship.
The SEAT Cupra Championship was a one make series which ran for 6 years from 2003 to 2008.  Many considered it to be a a support package to both the BTCC and the World Touring Car Championship (WTCC) and 78 drivers competed over the 6 years.
The prize was originally to become a driver for the SEAT works team, but this changed to a £100,000 money prize, as won by Tom in 2005.
The competing cars were SEAT Cupra with either 1.8L (first generation) or 2.0L (second generation).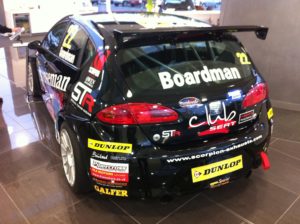 Unfortunately SEAT decided to stop running the UK championship in 2008.
However, they created the SEAT Leon Eurocup, the first of which took place in Spain in 2008.
As a result, Tom also turned his attention to the European racetracks, where he had some impressive results such as winning the Spanish Supercopa championship in 2008.  He then completed a year in the WTCC in 2009, and the team of Boardman and Tom Coronel won the Independents Team Championship.
In 2010, Tom returned to BTTC racing.  In 2011, he drove this stunning car with his family"s Special Tuning Racing team, which is sponsored by Club SEAT and others.
This car is now displayed at VW heritage and is currently being shown off at VW Group Head Office in Milton Keynes.
---

EMMA JONES
This article was written and published by Emma Jones.  Emma works for Trade Classics as an in-house journalist and copywriter and has many years" experience in the classic car sector.  Why not write a reply on this article below – she"d love to hear your thoughts on her thoughts!Google
---
Tags:
british touring car championship
,
seat leon
,
seat touring car
Categories:
Classic Car Blog
,
Spread the Love