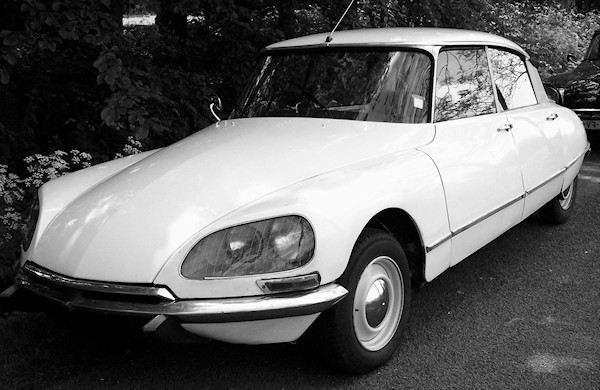 Back in the 1950″s, the Citroën DS was a very impressive car indeed…
It was unveiled in 1955 at the Paris Motor Show, and was a true symbol of post-war recovery and innovation.  It had the "wow-factor", not only with its sleek and usual shape, but also with its technology.  These features made it a huge commercial hit and 12,000 models were sold on the first day alone.
The DS was front-wheel-drive, but was notably ground-breaking due to its hydro-pneumatic suspension.  This meant that each wheel had independent shock absorbers.  Therefore no matter the terrain of the road, the innovative suspension enabled the car to adjust and remain level.
The car was a big hit, not only in France, but across the world.
There was said to be no bigger fan of the Citroën DS than the French President, General Charles de Gaulle, who himself was a symbol of post-war France.  General Charles de Gaulle became president of the French republic three years after the release of the Citroën DS.  Impressed by the Citroën DS, he used it as his state car.
Following his stance on the French situation with Algeria, there was an attempt made on his life in 1962 by an Algerian nationalist group.  On 22 August 1962, shots were fired at De Gaulle"s car as he traveled through Paris at a speed of around 70 miles per hour.  The shots killed his bodyguards, who accompanied the Citroën on motorcycles.  The rear window was smashed and all four tyres were hit.  The suspension system enabled the car not to crash and the driver managed to get the car out of danger.  The President was unharmed.
If this story seems a little familiar to you, then you might be thinking about Frederick Forsyth"s Day of the Jackell which included this event and it indeed featured in the film by the same name.
Charles de Gaulle was said to have declared that he owed his life to the Citroën DS.  Feeling such an affiliation to the car, he did his best to intervene in the attempt made by Fiat to take over Citroën.  Fiat"s stake was limited to 15% in Citroën. In fact in 1976, Citroën became a French affair as it was sold to fellow French car maker, Peugeot.
If you get a group of classic car enthusiasts in a room, and ask them to name their favourite all-time classic car, you can be sure that a good number of them will name the Citroën DS.  Why? Because it revolutionised motoring!
It makes absolute sense that this car was jointly designed by an artistic sculptor and an aircraft engineer.  This car changed everything. It revolutionised not only engineering; but also what cars look like both inside and out.
Quite fittingly, if you say "DS" with a French pronunciation, you will have just said Goddess in French!
---

EMMA JONES
This article was written and published by Emma Jones.  Emma works for Trade Classics as an in-house journalist and copywriter and has many years" experience in the classic car sector.  Why not write a reply on this article below – she"d love to hear your thoughts on her thoughts!Google
---
Tags:
1950s
,
1960
,
1970s
,
citroen ds
,
french
Categories:
Classic Car Blog
,
Classic Car Chat