Imagination.
It can deem you a dreamer with no grasp on reality. Or it can classify you as a high aiming individual for whom the sky is the limit.
Imagination may also give birth to creativity, tickle success from the jaws of failure and spawn wonderful plots for films, novels and soap operas.
And occasionally it may gift you a break from being yourself. And this in fact, is my all time favourite role of imagination.
A period of imagination is a locked door, you simply have to find the correct key to unlock it. And then step whole heartedly into the imagination zone that lives beyond the door frame. I once spotted a beautiful key, sitting in the lock of an enticing door, goading me to turn it anti-clockwise.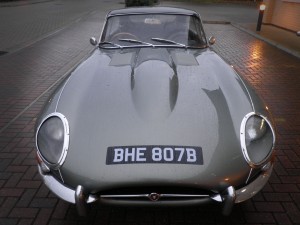 This significant key was a Jaguar E-Type Series 1.
For those of you who have read my previous articles you may have picked up by now that I am not in love with the technical side of motoring, but more so how a car makes me feel, who it turns me into during that moment and the surprise experiences that accompany that state of being. The Jaguar E-Type was no exception.
I sat quietly in the E-Type overlooking the gorgeous front end that disappeared off into the distance. Reflections of my surroundings lay in a beautifully distorted manner within the bonnet's opalescent gun metal grey paintwork. I couldn't take my eyes off them. Taking a firm grip of the elegant wooden steering wheel at the ten to two position, I nestled my body further into the ox blood leather trimmed seat. I pushed myself back and smiled, inhaling deeply as I did so.
The E-Type had opened the enticing door. And the moment I pushed back on the steering wheel, I had stepped boldly beyond the door frame.
I was now an airline pilot.
I was Frank Abagnale from the film Catch me if you can. The part where he dresses up as an PanAm airline pilot and the whole world walking by stops to admire him. Leonardo Di Caprio was no longer. Michael Atwal was walking down that U.S. street in a PanAm uniform. Signing those autographs.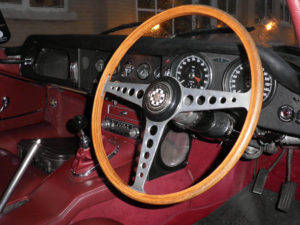 I dare not divert my eyes from the bonnet view, I focused in on keeping my eyes in line with the trio of wipers unless I was required to look out of the side windows, or into the tiny, perfectly styled door mirrors. I didn't want to see that my pilot's uniform only existed in my head, or in fact acknowledge that I did have a scruffy pair of jeans on in reality.
I drove on, remaining firmly in denial. Just as Frank Abagnale had received a warm welcome strolling along confidently as a pilot, I lapped up the intense attention from onlookers in a cool, calm and sophisticated manner.
Inner Mike woke up and began speaking non-stop. Outer Mike listened intently.
"Keep staring straight ahead."
"Don't look at that guy smiling at you."
"Act like you drive it daily, like you have owned it for a few years and this is normal for you."
"I know she turned her head and is looking at you, but don't look back!"
"I know you really want to see your reflection in that window, but don't look, it will be obvious."
"Just pretend this is a regular day. You are driving your 645ci."
"Don't put your arm on the window sill. Take it off. Actually, you can put it back now, until you have to turn the wheel again. Oh you need to turn it again!"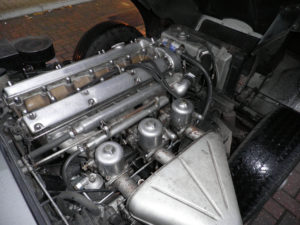 Both Mike's knew that to live like a pilot for a few hours was a once in a lifetime break from themselves. We genuinely felt special. We felt the E-Type, being graceful, charming and boasting heritage, in turn gave us credibility as the driver, and as the man. We didn't want to do anything to destroy this credibility.
Despite imagination taking over on the two hour drive, memory remained. And we both still remember what it felt like to be an airline pilot as Frank Abagnale had experienced…simply winging it, making it up as he went along. We also recall how the E-Type drove. The aggressive straight six power plant never ever ran out of torque. Instant throttle response. Mesmerising mechanical induction and exhaust noise. Super light clutch. Progressive and effective brakes. A sweet gear change. Some could argue it felt agricultural. We would argue you simply need to learn how to use it, accept it and love it. A low down driving position, sat close to the wheel ready to wrestle it and battle its heavy nature. Compliant suspension that coped very well with bumps and undulations. A cockpit with stylish dials, intricate controls and leather everywhere.
A cockpit. In which a mighty fine pilot was sat.
The Jaguar E-Type was fast. We felt she had the pace, instant acceleration and thrust of a BMW M3 from the late 1990's, the E36 to be exact. Sweeping statement? Not at all. The 3.8 litre straight six heart was finely fettled and is one of the best engines inner Mike, and I, outer Mike, have ever come across for drive ability. We motored along with kid gloves on when it started to rain…the rear end could easily step out, she might gather pace deceptively and be too quick for her own good to take a corner safely… but being honest we never actually created any evidence to support the 'what if' statement you have just read.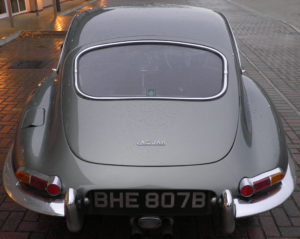 Simply because we had too much respect for the E Type. It would be rude to ask her what she could do. So we never did. And thus she demonstrated impeccable road manners and never missed a beat, but somehow assured us that she had much more to give. Much more. She just didn't need to try hard. Or prove a point, because she proved her point every time someone laid eyes on her. Stepping out of the E-Type, from imagination to reality, Frank Abagnale's air line pilot faded away and Mike burst back into life. What a trip for the body and mind that had been. Inner Mike felt refreshed, outer Mike somewhat more confident in his demeanour. Most remarkable.
So does a Jaguar E-Type make for an easy classic car to own?
Relatively speaking, yes it does. However, be prepared to keep a good solid fund aside for maintenance. For example clutch replacement, being labour intensive to remove the bonnet in the process costs in the region of 2000 GBP plus I believe. Paintwork can be pricey too because the E Type's panels flow very smoothly leaving minimal points on the bodywork to blend and localise repairs – a scuff to the front of the bonnet can in some instances require half the car to be painted to ensure a perfect finish. Brake and ancillary parts are reasonable, just watch out for inboard rear callipers that are again, labour intensive, and try and avoid any situation that constitutes an engine rebuild. Find an E-Type that is already running sweetly and maintain it like an Angel. I personally believe that any form of E-Type purchase is money wisely invested. Parts are widely available, from original equipment through to uprated goodies, so you can spoil yourself and your mechanical pet from time to time. 'Car presents' are really special are they not?
Which E Type should you go for – Series 1, 2 or 3 – Roadster or fixed head coupe?
Well, that is solely up to you, see which 'key and door' combination entices you the most…
Who will you be behind the wheel of an E Type?
If I could, I would buy a series 1 in an instant. In this exact colour. Then commission an electrician to re-wire the whole car, fit an alternator, electronic ignition, and a good stereo hidden away. And I would drive it every day. Every, single, day. With Chris Rea, Dire Straits and Spandau Ballet on board. To the shops. Out to dinner. To the gym. To the theatre. To the pub, and familiarise myself with their soft drink offerings.
Even to work and back.
Oh wait. I work from home. It would be time to rent an office. As far away as possible.
With my desk facing a window. The window that the E-Type would be parked in front of.
Maybe I could even find an office based at an airport?
Mike 🙂
PS oh yeah, and if you like my articles then you can have them delivered straight to your lovely inbox – simply subscribe to my blog.
---

MIKE ATWAL
This article was written and published by Mike Atwal. Mike works for Trade Classics as an in-house journalist and copywriter and has many years' experience in the classic car sector – for over 8 years he was the General Manager of the Classic Car Club in London and responsible for a fleet of over 100 cars worth multi-million pounds. So there's not much Mike doesn't know about makes, models, maintenance and idiosyncrasies of these old cars. Mike's a true petrol head with a deep passion for the classics and he loves to talk cars all day, so why not write a reply on this article below.
Google+
Tags:
etype
,
jaguar
,
jaguar etype 2+2
,
jaguar etype fhc
,
jaguar etype roadster
Categories:
1960s Classic Cars
,
Classic Car Blog
,
Jaguar E-Type
,
Mike Atwal