I felt I should be rubbing two sticks together. And as they sparked, set fire to a pile of twigs and leaves. And then throw my freshly speared to death rabbit on top….
And while the rabbit cooked I should sit on my favourite rock. Throwing smaller rocks at passing dinosaurs.
And when I became bored of that, perhaps I would finish the painting on the wall of my cave.
Because I had become a caveman.
Not Fred Flintstone. No no. He was a gentleman, a sophisticated chap. He even had his own little pet dinosaur along with a model wife.
I was a barbaric, grunting, limited to five thoughts Neanderthal, with a wild animal's thigh bone as a club in my left hand and a chicken drumstick in my right.
The five thoughts were cycling in my brain, nestled in my head, connected to my torso, sat snugly in a black leather sports seat, bolted to a floor pan of a Vauxhall Monaro, parked in a petrol station just outside of Goodwood.
Thought one: I am hungry.
Thought two: I am thirsty.
Thought three: What should I eat?
Thought four: What shall I drink?
Thought five: Why did I ever want an E39 M5?
Thought five.
Possibly the most controversial thought to have ever popped into my head.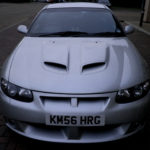 I had been driving an E39 M5 the week before, enjoying its razor sharp performance and light on its feet rear wheel drive antics. Since then I had been looking online day and night to find my perfect M5. And now, based in the Monaro's driver seat, I was frantically browsing the classifieds to see if l could find my Monaro-to-be. What was an M5 again? Motorway in the West Country isn't it?
The moment I had turned the key of the mighty Monaro I felt like a caveman. A raw man. With the M5 I felt guilty for not shaving. Sat in the Monaro I felt embarrassed for merely having stubble and my lack of shoulder length hair.
The Monaro had something about it. It was naughty. It encompassed many features that it shouldn't have got away with…for example, the rear exhausts and wing looked a little after-market, as did the rear lights, and for a car that had really solid chunky seats the dash plastics were a little too lightweight for me. However, somehow it just all came together. I remember heading out of Goodwood, where I had arrived as a King in an XK150 (see my earlier blog), and instantly feeling perfectly at home with the steering and clutch weight. I really liked the heavy, slightly longer than it should be throw of the gearbox.
Eventually, what really got me deep in the pit of my stomach was accelerating in the Monaro. It's my absolute favourite part of driving, being pinned back into your seat, the induction and exhaust note becoming more aggressive as you fly towards the next corner. The Monaro, to this day, remains my most memorable car for acceleration. It always kept itself planted and somehow launched itself in a perfectly straight line where ever I pointed it. Even when it began to rain.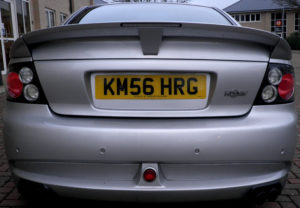 My second favourite thing is braking. Scrubbing off the Devil's speed to take up the pace of an Angel. The Monaro's brakes hold their place high up as one of the strongest sets of stoppers I have come across. And they looked the part through the huge alloys.
The Monaro could corner too. Civilised driving was easy. Pushing on was rewarding. And the basic and raw engineering of a big 6 litre V8 with rear wheel drive connected via a manual gearbox just worked oh so well. It had an awesome stereo and the leather seats were supportive, comfortable and solid, with no squeaks or creaking, even when my body weight was putting it under strain from hard cornering.
It was not a car that stirred emotions with the masses watching it roll past, but I had that satisfying feeling that on my three hour drive home I would not see another Monaro. And if I did, I was guaranteed to make a new friend when we pulled each other over to stop and chat. The unwritten rule of those who dare stick together. And that's special. Every time I saw a another Vauxhall driver glance at the Monaro and me, a smug warm feeling would take hold of me. I was in Vauxhall's flagship car, top of their current modern league. Only a classic Lotus Carlton could have upstaged us.
A month later I went out and bought a BMW 645ci. Why not a Vauxhall Monaro? After being away from something amazing you tend to forget how good it was and start to think rationally. I focused in on the Monaro model suffering reverse gear failure, having a huge appetite for fuel, the image of the rear feeling a little after-market and the dash plastics being too light for me. The 645ci seemed to get round all of this, and was a bloodline relative of the M5. I thought I would enjoy all of what I loved about the Monaro with all I loved of the M5.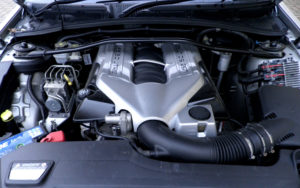 Then I took the six to Goodwood and upon driving back on the roads that the Monaro had owned, with every push of the brake pedal, every hard acceleration burst and every time the auto box changed for me…it hit home, I had been completely wrong. I had bought the wrong car.
The Monaro in hindsight was well put together, more compliant, streets ahead as a driver's car and had a party trick in the form of linear near perfect hard acceleration with no wiggling from the rear. Like a plane accelerates down a runway. Or the Eurotunnel accelerates.
I still want one. And if you decide to buy one, don't be put off by reliability issues, it proved to be a warrior in the end, strong like the caveman it turns you into. It does have an Achilles heel in the form of reverse gear synchro I believe, but there is lots of accurate information on the web, very much worth reading up about. Buy one that has had the issue sorted but beware of looking after the reverse gear, from my experience the replacement part was the same weak original, so it could happen again.
In fact, you know what, keep it simple. Buy a Monaro. Save reverse for very special occasions.
Oh, and for those of you who are reading this, feeling disappointed that you need a four door car, I suggest you Google 'Vauxhall VXR8'…Caveman can take his whole tribe out for the day if he wishes.
Mike 🙂
Remember, if you like my articles then you can have them delivered straight to your lovely inbox – simply subscribe to my blog.
---

MIKE ATWAL
This article was written and published by Mike Atwal. Mike works for Trade Classics as an in-house journalist and copywriter and has many years' experience in the classic car sector – for over 8 years he was the General Manager of the Classic Car Club in London and responsible for a fleet of over 100 cars worth multi-million pounds. So there's not much Mike doesn't know about makes, models, maintenance and idiosyncrasies of these old cars. Mike's a true petrol head with a deep passion for the classics and he loves to talk cars all day, so why not write a reply on this article below.
Google+
Tags:
car review
,
classic car
,
monaro
,
vauxhall
,
vauxhall monaro
Categories:
Classic Car Blog
,
Classic Car Reviews
,
Mike Atwal
,
Vauxhall Monaro