How Do I Import a Classic Car into the UK?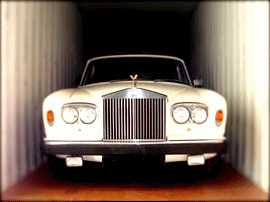 Importing a classic car can be a complicated affair and depends on both your own circumstances and also that of the car.  It"s also different when importing from within and outside of the EU.
There really is a lot of conflicting and confusing advice on forums / other sites.  So in order to make sure I give you accurate advice I"ve done a lot of research and even called HRMC on 27/08/13 to confirm the somewhat confusing Import Duty and VAT position.
So I thought I"d write this article about the process for importing a classic car from the EU (European Union or Community), e.g. Italy, France, Germany and Spain, and also highlight the differences from outside of the EU; like USA and Australia.  I"ve also written a generic blog on the UK registration side of importing a classic car, i.e. what to do once your lovely classic car hits UK soil – click here.
For the moment, I am going to assume that you are a private individual car owner who wants to import a classic car for non-business reasons and not for re-sale.  Here are a few actions / considerations you"ll need to think about before embarking on bringing your dream car or motorbike back into the UK.
1. Research Car Prices
Do your research, i.e. what type of classic car or motorbike are you looking at, how much do they sell for in their country and how much would it be worth in the UK.  After all  you don"t want to go through all this hassle if you could buy an equivalent vehicle for the same price – you must make sure their is a healthy difference to make it worth your while.  When you"ve done enough research then see section 2 and either 3 or 4 below based on where you are importing the car from, this is to work out the total cost of the car after importation.
2. Classic Car International Transportation
How are you going to get the car back, i.e. drive it back or arrange a transporter, or if you"re shipping your car from America then what carrier are you going to use.  From the EU and as a very rough guide, a multi-car transporter will cost between £800 to £1000 per car from somewhere like Swizerland, Austria or Italy.  This is going to be the most expensive part of bringing a car back into the UK – here are a couple of people you can call to work out a price:
Overland Transportation from EU Countries to UK
Shipping from USA to UK
3. Duty & VAT for Importing a Classic Car from the EU to the UK, e.g. from Italy, France, Spain or Germany
It"s a much simpler process to import a car from mainland Europe, e.g. Italy, Spain, France or Germany.
A representative from HRMC told me that "Single Market Rules" apply and it"s not a strict "import" as we are all considered one under EU law, so is more a "movement" of goods.  So this is good news for the majority of us as:
a) No import duty is liable – as it"s a movement of goods around the EU
b) Also no VAT is liable – this is because VAT would have been paid in the country of origin on its original purchase
The process steps to follow are:
a) Purchase of the car in the EU country of origin:
Make sure the car has a local MOT, e.g. a "revisione" for an Italian car (only important if you plan of driving it back)
Make sure you insure the car – especially if you plan on driving it back home.  You will need to use the car"s VIN number as you won"t have the new registration number until later in the process.  Most classic insurance companies accept this identification and will issue a certificate.
In some EU countries you need to apply for temporary plates, e.g. in Italy the number plate is assigned to the driver and not the car – this is an additional cost and can set you back about 400EUR for signing the property document and 175EUR for the temporary plates.  If the seller trusts you then you could use their plates to drive it home (if they don"t need them) and you could send them back in the post when you get to the UK.
Collect the original copy of the temporary registration document
Collect the official declaration of sale with the sale price signed by you and the seller and a Notary
Obtain a Certificate of Ownership
b) Drive or Transport the Vehicle back to the UK
c) Notify HRMC and organise the car"s MOT
d) Register the vehicle with the DVLA – see my other article on this process – click here
Also, there are a couple of ancillary fees to add, namely a Customs Fee of about £50 and a DVLA registration fee of £55.
4. Duty & VAT for Importing a Classic Car from Outside of the EU to the UK, e.g. from USA, Africa, India or Australia
Logistically this is more complicated and also more expensive as it also involves the near certain liability of Import Duty and VAT.  Classic cars coming in from outside of the EU will be subject to Customs Duty and VAT, as they are considered to be "new goods to the EU".
I really recommend you contact an experienced importing company to help you with this process, however, the following will outline the steps you need to consider and will give you more knowledge on the subject.
a) Purchase the car in the country of origin
Make sure you obtain key documentation, e.g. sale agreement, registration documentation
b) Ship the vehicle back to the UK via a trusted shipping company
c) Complete a C384 form to work out the amount of Customs Duty and VAT liable (for Private Motor Vehicle) for import purposes.  You can download the C384 form via Her Majesty Revenue and Customs website = click here 
At the time of writing this article you can expect to pay 10% Import Duty for non-EU manufactured cars* and 20% VAT – this is worked out as follows:
Total Purchase Price Shipping Cost (exc VAT) 10% Import Duty = Total | 20% VAT = GRAND TOTAL
For example, let"s say you buy a lovely 1970s Ford Mustang** for $20,000 | Convert to GBP = £12,870 | Example Shipping Fee of £1,000 (Roll on Roll Off – RORO with included carriage insurance & exc VAT) = £13,870 | 10% Duty of £1,387 = £15,257 | 20% VAT of £3,055 | = TOTAL COST £18,312
Here"s a link to a handy online calculator to help you work out the costs – click here.
d) Notify HRMC and organise the car"s MOT
e) Register the vehicle with the DVLA – see my other article on this process – click here
Also and the same as importing a car from the EU, there are a couple of ancillary fees to add, namely a Customs Fee of about £50 and a DVLA registration fee of £55.
*EU and Non-EU Manufactured Cars – If you are planning on importing an originally EU manufactured car to the UK from outside of the EU, e.g. you import a Porsche 911 from California, then the Customs Duty is waived.  You will only have the 20% VAT to pay.  However, UK customs will need to see evidence that the car was originally exported from the EU.  In order to prove this, you can provide a copy export entry, the export invoice or the export bill of lading/airway bill.  If none of these documents are available, you could also try to get hold of an official letter from the manufacturer which confirms that the car was fully manufactured in the EU.  Please bear in mind that this needs to be 'official' and therefore needs to be on company-headed paper, and signed.  If you can't provide one of these pieces of evidence, then unfortunately you will have to pay import duty and VAT, as if the car was newly entering the EU.  UK customs will not except that a car has to be EU made just because the manufacturer is European!
**Importing Cars Over 50 Years Old – If the car is over 50 years old, coming into the UK from outside of the EU,  then you don"t pay any import duty and pay VAT at a reduced rate of just 5% as it"s classed as 'historical interest' under the 9705 'Goods of Historical Interest' clause
**Importing Cars Over 30 Years Old – If the car is over 30 years and under 50, coming into the UK from outside of the EU,  then it may be also be officially classed as 'historical interest", under special circumstances and like cars over 50 years old means that you don't need to pay import duty, and that you pay a reduced rate of VAT at only 5%. However, in order to qualify for this, you will need to complete the 'Binding Tariff Information', this is basically a request for reduced import tax which you need to obtain from HM Revenue and Customs. For example, it may be very rare, have been used for a particular purpose, or owned by a famous person etc. If you think that this may be the case, then you can write to customs and ask to be considered under the 9705. However, I can reliably tell you the chances of obtaining this cause is very slim based on peoples" past experiences written up online. My advice: don"t waste your time unless the car was owned by Elvis and pay the normal duty / VAT.
Here"s a link to a guide on the UK Government"s website – click here.  And a link to HRMC"s guide on VAT and Duty – click here.
That"s it, a lot to take in and different rules based on where the car is being imported from, but hopefully will give you the necessary steps to follow to make sure there are no nasty surprises.
Please remember, once you have your car through customs process, you then need to contact the DVLA in order to understand the registration process for your imported classic car.  Please read my article 'How do I register an imported classic car in the UK' for more information on the process.
---

EMMA JONES
This article was written and published by Emma Jones.  Emma works for Trade Classics as an in-house journalist and copywriter and has many years" experience in the classic car sector.  Why not write a reply on this article below – she"d love to hear your thoughts on her thoughts!Also, don"t forget to check out the classic cars for sale here on Trade Classics.Google
---