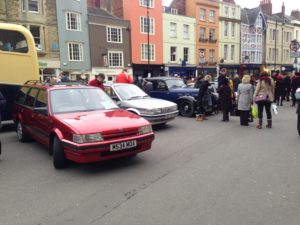 Classic Car Shows in July, August and September 2013
Okay so the summer finally seems to be here – the weather was amazing over the weekend and we have another good week forecast ahead.  So it"s at times like these, as classic car fans, our thoughts turn to attending some of the best classic car shows in 2013.
Now we know there are lots of individual car shows happening around the country at village fetes and town events – the best way to find out what"s happening in your area is to grab a copy of your local paper and see what"s listed in the "What"s On" section.
I thought it would be worthwhile to list the larger and more established classic car shows happening around the UK.  The benefit of these types of shows is usually more to do for the family, i.e. other exciting activities like driving experiences, funfair rides, exhibitions and I"ve even seen / participated in a bit of Zorbing in the past!
Don"t forget, if you"re already a classic car owner then these larger events are usually a good place to meed like-minded people and pick up spares / accessories for your pride and joy.
So without further ado – here"s the hottest classic cars shows scheduled for the summer of 2013:
The Silverstone Classic Car Event
Fri 26th to Sunday 29th July 2013

This is going to be a massive and fantastic classic car event this 

summer.  There will be no fewer than 24 races covering over 80 years of classic motor racing history.  There will be around 1000 cars racing and some will contain over 50 per race – now that"s going to be exciting!  Apart from the historic classic car racing, there will be acres of cars on display for you to drool over!  I"m looking forward to seeing what Porsche will do to mark their 50th anniversary of the ever popular Porsche 911 – check out my recent article on Porsche Project 50.
Tatton Vintage Classic Car Show
17th to 18th August 2013 (9.00am to 4.30pm)

Tatton Park Near Knutsford in Cheshire

This established event has been running for 26 years and is ever popular being one of the North West"s biggest events.  There will be around 100 club displays from all the top car makers together with over 2,000 classic car exhibitors.  To top this off there will be a massive autojumble and car sale area.
BMRC Auto Historic
1st September 2013 (10.00am to 5pm)

The Cricket Pitch, Burham, Near Arundel, Sussex

Another newcomer to the scene and in their fourth year, the Burpham Motor Racing Club is holding their annual event.  The Super-sonic Bloodhound SSC will be the star attraction – for those of you that haven"t heard, this awesome car will attempt to break the 1000mph barrier in 2015!  Also, you"ll get to see over 200 classic cars and bikes from the last 100 years.  Last but not least, you"ll also get the chance to see the Mk9 Spitfire!
Salon Prive in London
4th to 6th September 2013

Syon House in Syon Park near Twickenham – TW8 8JG

A truely fantastic setting for this luxurious event now in its 8th year!  It"s a hospitality only event so please check out the website for ticket / visitor information.
St James Concours d" Elegance
5th to 7th September 2013

St James" Palace

A fantastic smaller event with around 60 classic cars to see.  It will take place in the gardens of Marlborough House. Fingers crossed for some good weather!
Beaulieu International Autojumble and Car Show
7th to 8th September 2013

Beaulieu, Brockenhurst in Hampshire

Okay, for some people, this is considered the best car event of the summer.  We tend to agree as not only will there be 100s of cars to look at and drool over, it will all take place in one of the most beautiful regions in the country – the New Forest.  If you"re looking for that unique special part for your car then this will probably be the place to find it as there will be over 30 acres of autojumble!
Goodwood Revival 2013
13th to 15th September 2013

Goodwood Circuit near Chichester in Sussex

This is a great period themed event with both race excitement and beautiful cars of the 40s, 50s and 60s to look at.  This is a real family event and lots of other stuff to do during the days.
---

EMMA JONES
This article was written and published by Emma Jones.  Emma works for Trade Classics as an in-house journalist and copywriter and has many years" experience in the classic car sector.  Why not write a reply on this article below – she"d love to hear your thoughts on her thoughts!Also, don"t forget to check out the classic cars for sale here on Trade Classics.Google
---
Tags:
2013
,
august
,
beaulieu
,
BMRC
,
classic car shows
,
july
,
salon prive
,
september
,
silverstone
,
st james
,
summer car shows
,
tatton
Categories:
Classic Car Blog
,
Classic Car Chat