The Porsche 996 Carrera.
Mrs Satan was in the kitchen chopping onions and peeling potatoes. She was in a good mood. And thus had decided that she would make Mr Satan's favourite dish, spicy meatballs with fried skin on chips. And then stick it in the fridge, with a note on the door to tell him they only needed three minutes on the fire pit. Because today was her day. Her very own 911 was to arrive. And tonight she would not be home. She would be putting the latest generation of 911, the 996, made in her honour and specifically for her, through its paces.
If you are now scratching your head thinking who the hell are Mr and Mrs Satan, please have a little read from the beginning to catch up with my 'Porsche 911 – The Devil's Own Sportscar' tale.
The doorbell for No.1 Hell rang. A chime that was worthy of a thirty five year wait.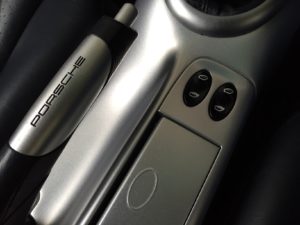 Mrs Satan answered the door. She had been cooking carefully, and thus there she stood in a sparkly maroon dress, with her favourite maroon nail varnish on, all done up looking glamorous; a knock out sight. It was the brave engineer from Porsche himself, greeting her with the keys to a maroon with black leather 996 automatic Carrera C4 cabriolet parked next to him. She was perfectly dressed for it. She was ready. Needing no introduction to the car, she stepped inside for the first time and gripped the steering wheel at the ten to two position. 'I love it!' she laughed. Mrs Satan had become exactly who she wanted to become behind the wheel. The 996 had unlocked an imaginative state of being for her. Who had she become?
I wish I knew. But The Devil wears Porsche I guess.
The brave bod from Stuttgart felt proud. The mission was accomplished. The 911 fantasy fairy tale could continue, it had all been just fine in the end. Mrs Satan ran inside and placed the mirror switch for the 928 Gts on the kitchen worktop and ran back out to her Porsche, slamming the front door behind her. She unlocked it. She was off to heaven.
I once drove the exact same car that Mrs Satan tore away in. And knowing that the next day I would be driving a manual Carrera 2S, I took all the more note of what she was like. First off, remember the heavy planted feel the 993 had? I now only need to use the word planted. The 996 seemed to boast the lightness of the original 911t but remained solid poised and un-flustered. Exhaust noise felt tamer to me. The aggression still remained but she was slightly muted. Perhaps the air cooled engines breathed a little deeper and harder. The interior was a lovely place to be. And for the first time settling into a newer generation of 911 I could hand on heart pin point why it felt newer. I was welcomed to the early 2000's with press button digital climate control, an in-built sound system and modern looking dials and switches. Porsche had done well as always, the fit and finish felt great, style was present and the seats felt comfortable yet supportive.
The 996 had got a lot of stick for having non-circular headlamps and being water cooled. But not being that up on 911s in terms of knowledge I just enjoyed what was in front of me. A super motor car. Granted, automatic and drop top is not my cup of tea, but I can appreciate that the roof mechanism was excellent. One press and hold action for roof down driving, another press and hold stint to be away from the elements. I liked the automatic gearbox, it made for swift clean progress in traffic and kept the exhausts growling at mid rpm most of the time, under load. At their best. The four wheel drive system was not really tested in my care, but she felt sure footed. If a 993 could make brisk progress in the snow and ice, I am sure the 996 would do just the same.
The very next day I spent a few hours with a manual Carrera 2 coupe. Much more to my taste Porsche wise. Having a manual gearbox to stir the superbly responsive and clean revving water cooled flat six was special. I felt I could make her dance from the rear to any tune I liked. Dare I say it, she felt controllable. Like I could push her and she would always forgive me.
And thus did the 996 encompass Mrs Satan's personality? An incredibly strong and capable soul, who when push came to shove could bite your head off, but exercised extreme forgiveness and tolerance simply because she could?
I think so. In my opinion, the best driver's Porsche of the 911's I have spoken of so far is the 996 Carrera 2.
So should you buy one? I would, if I simply wanted a non-fussy, daily driver that was a famous part of Porsche's almighty 911 fantasy fairy tale. Current prices are low for the amount of kit you get, but be careful, the early cars did suffer water leaks and problems with the rear main oil seal. After all, it was Porsche's first water cooled 911 and it was only natural it would take time for the technology to be tested and refined to replicate the durability of the air cooled era. I also think that year on year the 996 is becoming timeless. Granted it was not so from the off, but it is ageing well and still looks fresh to me. The 996 Turbo is a monster and is the one to watch for soaring values. I have only ever seen a friend's one tear away from me on a German autobahn, and it was quite a sight and sound I tell you. A true Daddy without the cut throatness of his great grandad (the 930 Turbo for those of you do not live on my bizarre planet.) And you guessed it, now is my usual line about making sure a specialist looks after it.
So you know my opinion of the 996, but how did Mrs Satan get on with her one? She loved it. She went everywhere and anywhere in it. But she made full use of Porsche's warranty, suffering a water leak here and there. But was she angry?
Her piercing devil eyes remained firmly bright and happy. She was forgiving of course. And after close to forty years of being in it together with Porshce, she remained an ally. In fact, Porsche were now part of the Devil family. With Mr Satan on side with his legendary now approaching modern classic status 928 Gts, Mrs Satan in her 996, their twin boys in matching 968 Clubsports and extended family enjoying the delights of Cayennes, Boxters and Caymans, the whole family from Hell now in fact needed Porsche more than Porsche needed them. Because Porsche's out of warranty are not cheap.
P O R S C H E was now firmly P O R S C H E.
And one fine day, the original brave bod from Stuttgart was just set about to drive off with Mr Satan's 928 Gts for its annual service when he was called back.
'Look, I know you guys are busy, but I need your help. My wife is going to be sixty next year. She loves her 996, but I know that deep down she wanted a 993, and I just can't move our operation to colder climates, it wouldn't work. Can't you give her the drive of the 996, the looks of the 993 and just do what you have to do to the engine to make it happen? And forget worrying about the indicator position. Everybody knows who my wife is, she doesn't need to indicate. Can you do that for me? But take your time and get it spot on ok?'
Mr Satan watched his 928 Gts roll on to Stuttgart, with a gentle smile across his face. Operation next generation 911 was under way.
Mike
Oh yeah, and if you like my articles then you can have them delivered straight to your lovely inbox – simply subscribe to my blog.
---

MIKE ATWAL
This article was written and published by Mike Atwal. Mike works for Trade Classics as an in-house journalist and copywriter and has many years' experience in the classic car sector – for over 8 years he was the General Manager of the Classic Car Club in London and responsible for a fleet of over 100 cars worth multi-million pounds. So there's not much Mike doesn't know about makes, models, maintenance and idiosyncrasies of these old cars. Mike's a true petrol head with a deep passion for the classics and he loves to talk cars all day, so why not write a reply on this article below.
Google+
Tags:
996 911
,
996 carrera
,
porsche 996
Categories:
Classic Car Blog
,
Mike Atwal
,
Porsche - Devil's Sportscar
,
Porsche 911
,
Porsche 996