Even though Trade Classics is now in its seventh year this was actually our first time exhibiting at the London Classic Car Show in the ExCeL centre and what an event it turned out to be!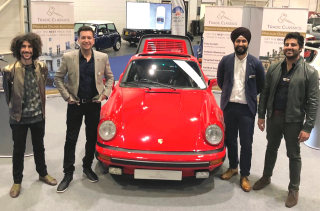 There were four of us on the Trade Classics' stand centred around a big red 1985 Porsche 930 Turbo from my personal collection that will also be on auction soon. Kulraj Salh (Chief Operating Officer), Mike Atwal (Director of Content) and James Boscarini (Creative Director) joined me over the four days. During that time we spoke to hundreds and hundreds of classic car enthusiasts from both within and outside of the trade.
We were relentless in talking to as many people as we possibly could and I really think our passion and dedication to connecting buyers and sellers shone through. We're not sales people, far from it, we're people passionate about two main things; classic cars and exploiting digital technologies.
The positivity we received was overwhelming and genuine interest in our service and what makes us a bit different and fresh. For example, people loved trying out our Virtual Reality (see more info here) and faces instantly lit up when seeing it for the first time. Comments received included how it really gives you an emotional connection to the car; like you get in real life. Children were hooked on it. One child in particular made her dad come back to the stand the next day to have another go; she spent about 30 minutes and 50% of one of our phone batteries and said it was her favourite place of the show.
We even spoke to all our offline and online competitors at the show and some even came over to our stand incognito; we're not silly, we know who you are! The message from my team and I was simple, there's enough cars for all of us as we all offer different services. In fact we decline about 2/3 of cars offered to us; some are right for a traditional auction and we recommend good ones.
There is and will always be a market for the traditional saleroom, it's the oldest form of trading and we love it, I love it. However, there is a growing market for secure and trusted digital offerings and that's where my clear vision comes in. To connect buyers and sellers via a trusted digital platform prostituting all forms of technology opportunities. We have some really exciting products in development that will revolutionise the bidding process and make it a much more of an emotional event; watch this space.
Key themes at the show were really highlighted to us. When talking to sellers it was all around how we validate our buyers and securely handle the bidding process with no cost to them. For buyers they loved the beautiful rich content and technical images we produce for each car.
The show was faultless in its production and the organisers managed to attract genuine classic car enthusiasts. Most people we spoke to already had a classic car of one sort or another and a high percentage of those people had more than one. In fact quite a few people we spoke to had collections of over 20+ cars.
We all know the market has slowed down over the last 6-8 months and certain marques / models are not as 'hot property' as they once were. For example, prices of air-cooled Porsches have seen a slight decline and models that once sold straightaway are taking a bit longer to sell, at a bit less.
However, on the flip side we are seeing massive gains in other marques such as Ford, 'Fast Fords' in particular. The RS Cosworth we currently have on auction (see here) had a bid of £30,000 within 5 minutes of setting it live last Thursday. We are also tipping the prices of Alfa Romeos to rise across the classic era, e.g. the 105/115 series. For many reasons, however the main one being Alfa are about to enter the F1 scene that will bring back the racing heritage to their brand.
My personal recommendation for a great driving car with investment potential right now is the Ferrari 360 with the manual gearbox. You can still get a good one for circa £70k privately; to me that's just plain ridiculous, it seems so low when you look at the prices earlier cars are fetching like the 355 and 308/328. Perhaps I should have kept that to myself as I may be on the hunt for one. If you find a good one in black then please do let me know.
In summary, we had a really good show, met lots of great people and constantly got goosebumps when talking to like-minded petrolheads that 'get us'.
I look forward to the 2019 show and perhaps even securing a sponsorship deal… LCCS!
Success always,
Adam Purrier
CEO – Trade Classics.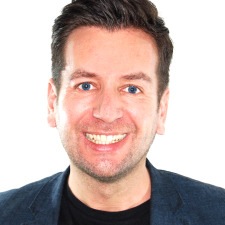 ADAM PURRIER
Adam is CEO of Trade Classics and passionate about two things; digital technology and classic cars.
They say do what you're passionate about the rest will follow, so back in 2011 Adam set up Trade Classics as a new digital platform to publish classic car articles and classified vehicle sales for free. 
Today Trade Classics…. more



---
Tags:
lccs 2018
,
London Classic Car Show
Categories:
Classic Car Blog
,
classic car shows and events
,
Porsche 930 Turbo
,
Virtual Reality